Manchester United defensive duo 'will not be frozen out like Bastian Schweinsteiger'
Mourinho recently complained about his stars being unwilling to play with minor injuries.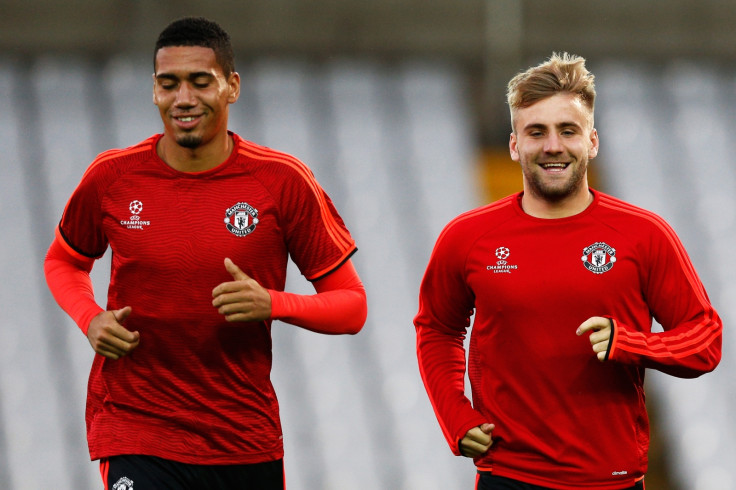 Manchester United duo Luke Shaw and Chris Smalling will not reportedly be ostracised like Bastian Schweinsteiger has at Old Trafford. The defenders both missed United's 3-1 win against Swansea City due to injury complaints, with manager Jose Mourinho later suggesting they should have played through the pain barrier.
The pair were forced to train alone at United on Monday morning (7 November), but that is standard procedure at the club. Indeed, Shaw and Smalling will not be frozen out by Mourinho, as has been the case with Schweinsteiger, according to Sky Sports.
"There is a difference between the brave that want to be there at any cost and the ones that a little pain can make a difference," the United boss told Sky Sports after their victory against Swansea. "Great people, not just football people – great sportspeople – many, many times they play without being 100%. For the team you have to do anything, that is my way of thinking.
"If one day I meet the big ones of this club, the ones with great success in this club for sure they are going to tell me that many times. They put a lot of the line even with pains everywhere. It is not just about the players, it's about the people that surrounds the players.
"It takes time but with the help of people like [Ashey] Young, [Phil] Jones, [Michael] Carrick, [Wayne] Rooney; these kinds of people I think it will be not an impossible mission, it will be possible mission."
But provided they regain full fitness, Shaw and Smalling will soon resume training with United's first-team and could be in contention for their next Premier League game, which is against Arsenal at Old Trafford on 19 November.
Schweinsteiger, on the other hand, has not played a single minute of football for United this season and his prospects of re-establishing his career at Old Trafford appear to be bleak. The World Cup-winning German recently started training with the United first-team, but his former Bayern Munich teammate Emre Can claims Schweinsteiger has been shown a lack of respect by Mourinho.
"I know Schweinsteiger very well and I used to play with him," Can recently said of the out-of-favour United star, according to ESPN. "He's a very good guy and he's a legend. I don't know what happened there but I think they don't have too much respect for him."
© Copyright IBTimes 2023. All rights reserved.