Marouane Fellaini has given his strongest indication yet that he will remain at Everton next season by claiming his "destiny" is with the Merseyside club.
The Belgian midfielder has been linked with a move that would see him follow his former Toffees manager David Moyes to Old Trafford following the Scot's appointment as Manchester United manager, while long term interest from Chelsea has also suggested his days at Goodison Park may be numbered.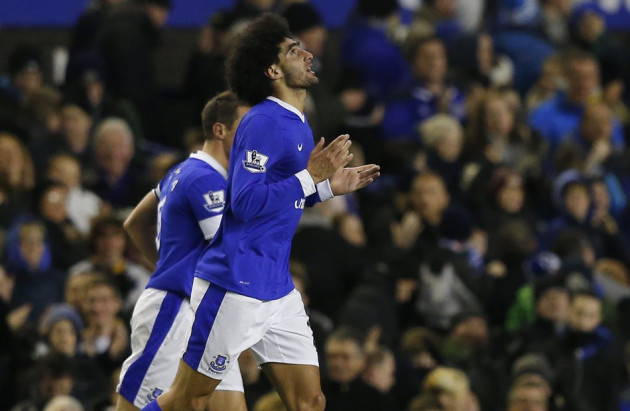 But whoever picks up the reins as new Everton boss in the coming weeks will be boosted by the 24-year-old's suggestion that he will remain at the club for at least another season.
"My destiny is with Everton, it is as simple as that," Fellaini is quoted as saying in the Mirror. "After that, you never know what can happen, but we still speak of one of the greatest English clubs.
"The framework and the basics are there. It is in this sense that I mean the departure of the coach does not change anything for me.
"Despite everything he has done for the club, we always have enough quality to continue to shine."
One of Moyes' first jobs as Manchester United boss will be to address the club's midfield issues. After their options in the centre of the park came under scrutiny at times this past season, the club may be ready to invest in fresh options, given the uncertainty surrounding the futures of Anderson and Darren Fletcher amid Paul Scholes' retirement.
Fellaini has been inevitably linked with filling the void in midfield under his former boss, but the 25-year-old maintains such ideas are nothing more than press speculation.
"Honestly, the departure of the coach does not change. He received a good challenge and I understand that he accepted.
"But he never told me about his project to take me with him to United. It is only in the press that I read it."
Fellaini was on target in Belgium's 4-2 victory over USA in an international friendly that had a strong Premier League vibe on Wednesday night.
His Everton teammate Kevin Mirallas opened the scoring with a clever chip over Aston Villa's Brad Guzan, with a brace from Romelu Lukaku in addition to Fellaini's effort sealing an easy victory for Marc Wilmots burgeoning side.