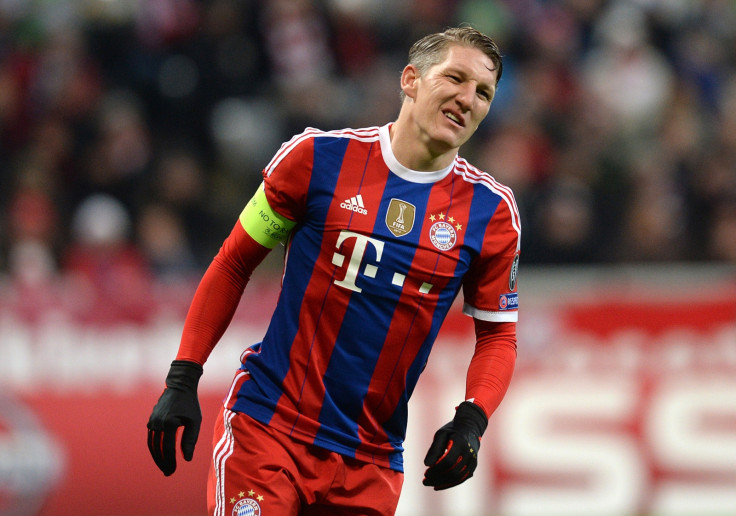 Bayern Munich favourite Franz Beckenbauer appears to have questioned Bastian Schweinsteiger's decision to join Manchester United, insisting that such a move is "brave" while reiterating that Major League Soccer may have been a more appropriate destination at this stage of his stellar career.
The 2014 World Cup winner has long since established legendary status with Bayern but recently chose to end his association with the Bundesliga champions by agreeing to reunite with former manager Louis van Gaal at Old Trafford on a three-year contract in a deal reported by The Telegraph to be worth approximately £14m ($21.7m).
Along with the signings of Memphis Depay, Matteo Darmian and Morgan Schneiderlin, Schweinsteiger's decision has been greeted with huge approval and unbridled enthusiasm by United supporters who clearly feel that central midfield is an area of the squad that has been subject to significant neglect since the latter stages of Sir Alex Ferguson's reign.
Bayern, meanwhile, appear understandably disappointed to be losing such an influential figure who has become synonymous with their considerable success over recent years and Beckenbauer, who in 2009 was named honorary president of the club with whom he won four domestic titles in addition to three European Cups, believes he will effectively have to rebuild his reputation from scratch.
"I find it very brave to make a move like this at his age," he told German publication Passauer Neuen Presse, as relayed by Goal. "People know Schweinsteiger at Bayern and know what he can do. That's not the case in England. He will have to prove himself all over again."
Indeed, Beckenbauer believes Schweinsteiger probably should have followed the likes of fellow midfield luminaries Steven Gerrard, Frank Lampard and Andrea Pirlo to the US in order to spend his remaining years before retirement competing in the MLS.
He added: "Basti is 30 years old at the moment. I wish him all the best and hope he can represent German football well in England. Not a lot of players have succeeded in doing so. A move to MLS would have made more sense."
Beckenbauer enjoyed two separate stints in the US, spending three seasons alongside Brazilian icon Pele with the New York Cosmos in the now defunct North American Soccer League (NASL) before returning for one final season in 1983.
Schweinsteiger is one of several former "one-club players" to be moving on this summer, with Barcelona midfielder Xavi opting to join Qatari outfit Al Sadd and Iker Casillas leaving Real Madrid for FC Porto.