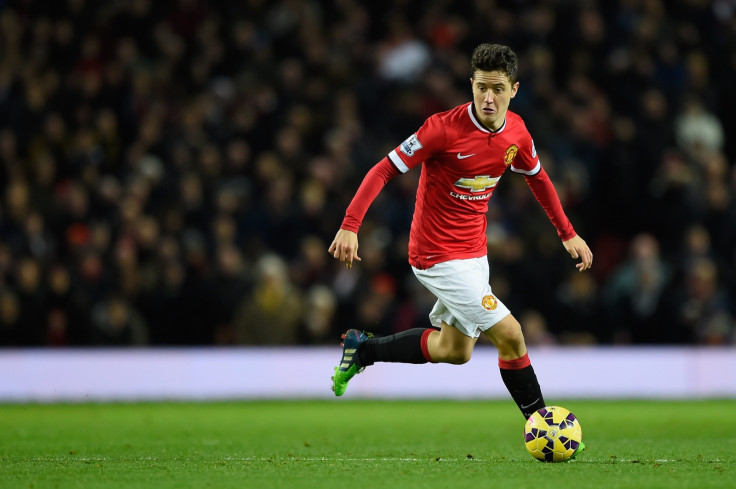 Manchester United manager Louis van Gaal has claimed both Ander Herrera and Adnan Januzaj are not ready to start against Stoke City on Thursday, 1 January, while Chris Smalling, Luke Shaw, and Rafael Da Silva are still yet to reach the "100% match rhythm".
Herrera has missed the last three Premier League games against Aston Villa, Newcastle, and Spurs after sustaining an ankle injury, while Januzaj has been out of the squad in the last two matches due to an illness.
Van Gaal has claimed the pair have now returned to training. Although they are expected to be in the squad against Mark Hughes' side, they still need to improve their fitness before playing 90 minutes.
"Herrera has trained today for the first time with us and Januzaj has also trained two training sessions with us," van Gaal said, according to Manchester United official website.
"They don't have match rhythm [yet]. Januzaj was ill and you have to recover from your illness, not from your tiredness. Maybe it's worse to recover from illness."
Meanwhile, Smalling, Shaw and Rafael returned to action during the second part of the 0-0 draw against Tottenham Hotspur on Sunday, 28 December, but van Gaal is also still cautious about their fitness.
"You have seen that Smalling, Shaw and Rafael Da Silva are coming back. These are the first signs that we already predicted two weeks ago, that the players shall come back but they are not back with 100% match rhythm, and now we have to play.
"It's a problem for me to come through this two weeks around Christmas and New Year, all these matches. That is difficult now."
Marouane Fellaini, Angel Di Maria and Daley Blind remain on the sidelines but versatile defender Marcos Rojo recently declared himself available to face Stoke after suffering an injury during the victory over Liverpool on 21 December.