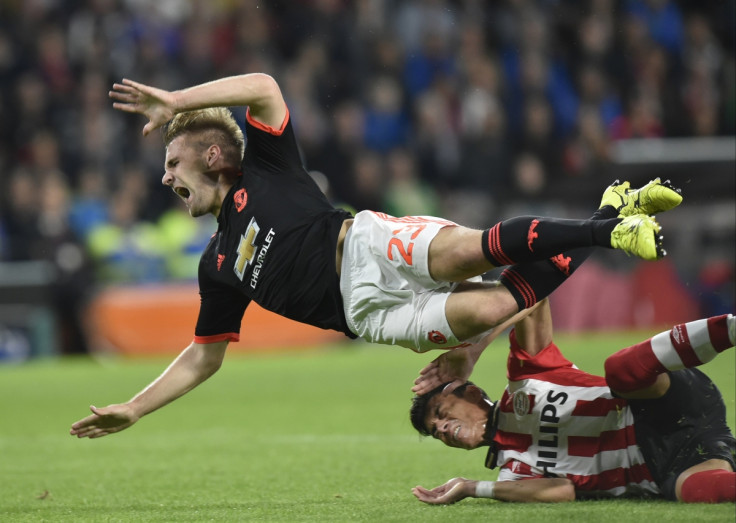 Manchester United manager Louis van Gaal has revealed Luke Shaw will have another scan on 27 November to get an update on his recovery from the broken leg he sustained earlier on the season. The Dutch boss says the team is missing the England international, who he believed would become the "revelation of this season".
The 20-year-old star struggled to make the impact expected during his first year at Old Trafford but looked ready to prove his worth this season after impressing in the first games of the campaign. But his promising start suffered a huge blow when he suffered a double leg fracture during the 2-1 defeat at PSV on 15 September following a tackle from Hector Moreno, with Shaw consequently ruled out for much of the remainder of the season after undergoing surgery.
"It is going very good with him but it's also difficult for him because now the progress is not as much as in the beginning," the boss said as quoted by the club website.
"Now, sometimes, he is fed up with the situation and I can imagine that. So I give him now, for example, a few days off because I don't think the memories of PSV are good for him. I wondered if he was fed up because maybe it was the match against PSV and every player has to watch the game in the stadium to support their fellow players.
"So I have given him time off but, on Friday, he has a scan and then we will know more about the injury and how it is going."
Van Gaal recently claimed he may need to bolster the position during the January transfer window despite having Marcos Rojo, Ashley Young and Daley Blind to fill in. Nevertheless, he admits Shaw's injury has been a big lost after admitting he is the best full left-back in his squad.
"Luke Shaw is a very important player," Van Gaal continued. "I said in advance that he would be the revelation of this season. Last season was his adaptation season, and he was on his way to doing that. I have Daley Blind, Marcos Rojo and Ashley Young, so I think I can manage that position, but it is still a loss because, in my opinion, he is the best left full-back at Manchester United."