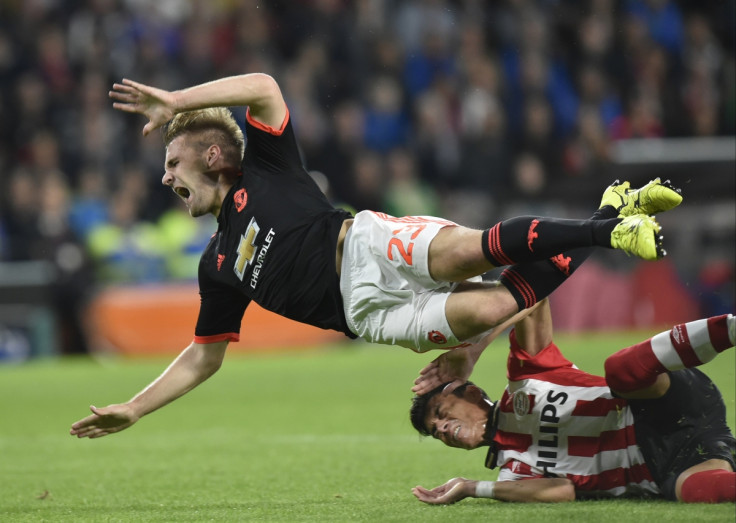 Luke Shaw has expressed his delight about Manchester United's qualification for the Europe League last 16 as he continues his recovery from a long-term injury with the target to be fully fit to play the final of the tournament on 18 May in Basel. The England international left-back posted a positive update on his Twitter account following the 5-1 victory over FCMidtjylland on Thursday night (25 February), claiming "Closer to the final, closer to my comeback."
The 20-year-old star saw his impressive start to the campaign hampered by a double leg fracture during the Champions League 2-1 defeat to PSV on 15 September in the group stages following a tackle from Hector Moreno. He underwent surgery in a hospital in Eindhoven a day later, and was automatically ruled out for six months, meaning that in the best case he would be available for later in March.
Van Gaal, earlier in February, revealed that he decided to include the former Southampton starlet in his Europa League squad in an attempt to give him a push in his recovery, with the target of having him at least ready for the final on 18 May in Basel.
"He can play the final," said Van Gaal earlier on February, according to the Manchester Evening News. "I have said that to him. It is a goal that he has to live for. It is possible. In my opinion, it is not impossible. It gives him the spirit (to come back). He is doing well."
Shaw looks ready to fulfil the wishes of his manager after Thursday night, and expressed his happiness for his side's victory over Midtjylland, meaning that his hopes to play the final are still alive. However there is still some way to go before the May final; Manchester United drew local rivals Liverpool in the round of 16 draw, with the tie to be played in March.
The news is a new boost for Van Gaal's defence after on Thursday night Marcos Rojo returned to action following the dislocated shoulder he suffered in November 2015.