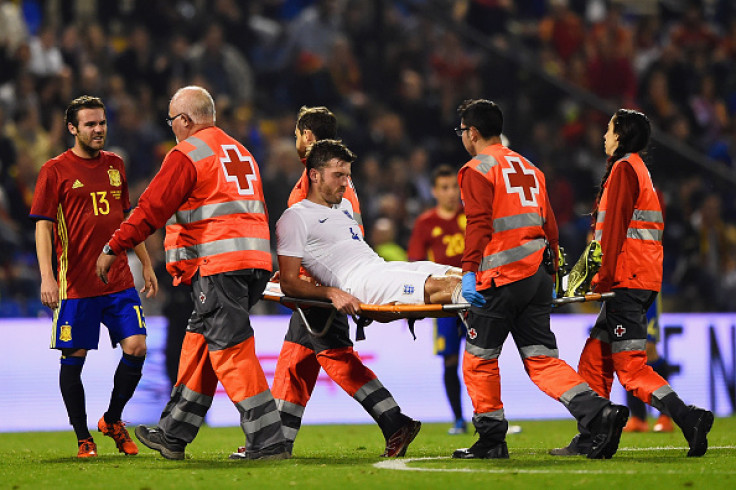 Manchester United have been handed a reprieve with Michael Carrick's injury, which is not as bad as first feared. The midfielder was stretchered off during England's 2-0 loss to Spain at Alicante after he twisted his ankle amid fears of a lengthy layoff.
The Red Devils are yet to learn the full extent of his injury, but it is believed that it will be a short-term absence after the initial estimation of six weeks due to fears of possible ligament damage. Carrick was seen moving around without a protective boot at United's Carrington training complex and also drove himself to training ahead of their clash against Watford, according to the Manchester Evening News.
England manager Roy Hodgson had admitted that the player had twisted his ankle and initially suggested that it could be a serious injury. The 33-year-old midfielder has been a vital cog in Louis van Gaal's midfield and his early return will be a big boost for the manager, who also faces the prospect of traveling to Vicarage Road to face Watford on Saturday (21 November). However, he will not have the services of teenage striker Anthony Martial, who picked up a foot injury during France's 2-0 loss to England on Tuesday (17 November).
"Michael has got a severely twisted ankle which normally means ligament damage. We won't know that of course until he's had an X-ray or a scan, but it doesn't look good," Hodgson said, as quoted by the Manchester Evening News.
Ashley young, meanwhile, has admitted that he is looking forward to returning to his former club, where he started his career, and he is hoping for a good reception from home fans.
"I'm really looking forward to going back. It's the club where I started and learnt my trade and, hopefully, it'll be a nice reception... a better one than I get at Aston Villa anyway! There will be quite a lot of my family going to the game, so it'll be nice to go back," Young said, as quoted on United's official site.