Manchester United injury news: Michael Carrick set for lengthy layoff after 'severely' twisting his ankle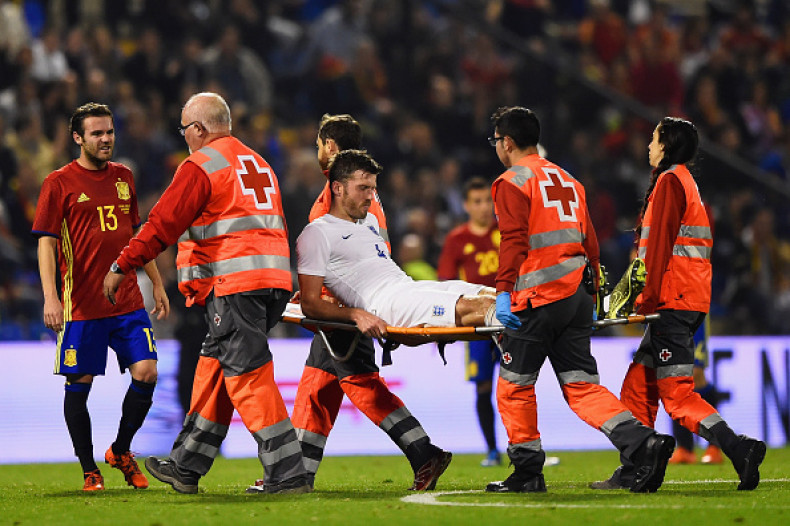 Manchester United midfielder Michael Carrick could be set for a lengthy layoff after the midfielder picked up an injury while on international duty with England. The Three Lions suffered a 2-0 defeat at the hands of Spain in the friendly fixture in Alicante on 13 November.
According to the Manchester Evening News, Louis van Gaal is likely to be without the services of his star player due to the latest injury setback. England are expected to play France in another friendly tie at home and Carrick will miss the upcoming clash.
The incident took place in the second half when the midfielder twisted his ankle. He was stretchered off the field and left the stadium on crutches. The 34-year-old will return to Old Trafford to undergo further tests, but it is feared that the England international is set for a long spell on the sidelines.
Roy Hodgson admitted Carrick's injury does not look good and confirmed the United midfielder had "severely" twisted his ankle. The England manager fears the former Tottenham Hotspur man could have damaged his ligament in the process.
"It doesn't look good -- he has severely twisted ankle, [which] normally means ligament damage, but we won't know until X-ray or scan tomorrow. It means we are one further player down going into Tuesday's game [against France]," Hodgson said, as quoted by ESPN.
"In this moment in time we could do without that - 11 missing to start off with, and maybe now 13 or 14. That is not an excuse as we thought the team we put out tonight were capable of winning the game. This is going to put a lot of pressure on players like Dele Alli and Eric Dier, as France are one of top teams in the world," the England manager added.
Van Gaal has the services of Bastian Schweinsteiger and Morgan Schneiderlin as the other two midfielders in the squad. The summer signings will have to fill in the midfield in the Carrick's absence.