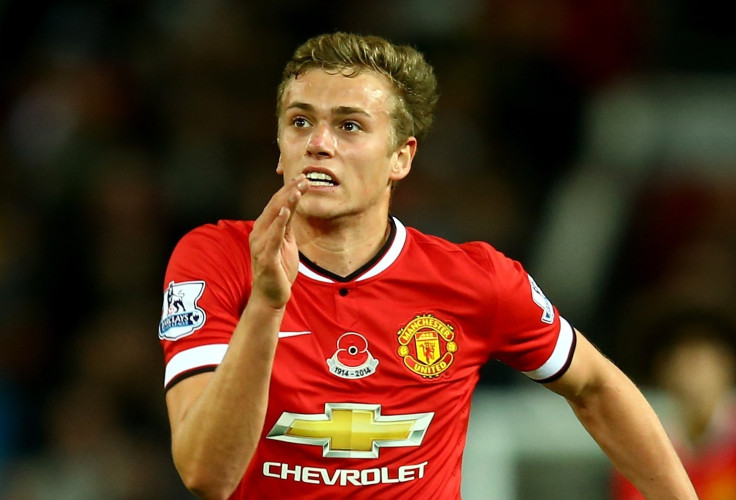 Manchester United striker James Wilson picked up an injury during the U21 league clash against Sunderland on Monday.
The 19-year-old was replaced six minutes before the break with a dead leg and the 20-times English champions confirmed Wilson's injury. Warren Joyce's side were forced to settle for a 1-1 draw after Andreas Pereira's strike was cancelled out by Mikael Mandron.
"U21s: HT - Sunderland 1 #mufc 1. Andreas Pereira fired United ahead but Mikael Mandron equalised. James Wilson has gone off with a dead leg," United tweeted.
United's first team also face Sunderland in the Premier League clash scheduled between the two sides at Old Trafford on Saturday. Wilson has already featured in 12 league games under Louis van Gaal this season, scoring one goal against Queens Park Rangers.
The 20-times English champions have Robin van Persie, Radamel Falcao, Wilson and Wayne Rooney as the first choice strikers in the squad. The former Arsenal striker picked up an injury during United's 2-1 defeat at the hands of Swansea City and left the Liberty Stadium on crutches.
The Dutch international is doubtful for United's weekend fixture against the Black Cats and Wilson was expected to replace Van Persie in the squad. However, with a dead leg, the teenager has given Van Gaal another injury scare for the Sunderland clash.
Should both Wilson and Van Persie fail to be fit on Saturday, Rooney and Falcao are the former Netherlands manager's other two options available while selecting his attacking players.
Meanwhile, Daley Blind has thanked United supporters for their faith in him and is hoping to repay their trust with regular impressive display on the pitch.
"Things feel great. I definitely feel their trust and their faith in me and I hope I can pay them back in every game. I want to work hard and show them what I'm capable of. I'm definitely feeling good here and I want to thank the fans for that," Blind told United's official website.
The Dutch midfielder also praised the support United received when they play away games.
"It's great to see there are so many United fans at every away game – it's difficult to describe their support. Every game they are there, whether it's home or away. I think I speak for the squad when I say we have to thank them for their support in every match," Blind added.