Despite the progress that Manchester United have made since they appointed Louis van Gaal last summer, it'd take a very brave soul wearing the reddest of rose-tinted glasses to suggest that the Dutchman already possesses a completely competent squad that could challenge home and abroad.
The previous transfer window's unprecedented spending addressed several key areas, even if that recruitment drive has been somewhat undermined by an incredible spate of injuries since August. Yet even when United have the entirety of this current squad fighting fit, some holes will emerge and some necessary upgrades will need to take place.
Executive vice-chairman Ed Woodward has been quite open about the club being hesitant to dip into the transfer market this month unless long-term targets become available, but here are three targets who would be worth pushing the boat out for this January.
Kevin Strootman
No surprises here; the Dutchman has been heavily linked with a move to Old Trafford for some time. Talk of Strootman leaving his homeland began over 18 months ago when David Moyes succeeded Sir Alex Ferguson, with the former PSV Eindhoven man eventually moving to Roma and helping the Giallorossi to second place last season in Serie A.
Strootman was an integral part of Van Gaal's set-up during his time in charge of the Dutch side, with the cruciate ligament injury he sustained against Napoli last March enforcing a change in formation and approach for the World Cup in Brazil. It's not difficult to see why; Strootman is a strong, physical presence typically deployed in defensive midfield, with his reading of the game and anticipation making him a reliable figure for club and country.
With Michael Carrick so integral to the side since his return this term, a more combative player able to slot into a similar position and role could help to ease the burden on the 33-year old and even offer a long-term replacement. At 24, Strootman still has plenty of time to improve and grow as a player, and would offer an upgrade on United's current midfield enforcer, Marouane Fellaini.
Unsurprisingly, with Roma three points behind Juventus in the fight for top spot in Italy, the club are publicly denouncing United's chances of signing the player, but with Van Gaal remaining a huge admirer of Strootman's qualities, a move might still hang in the balance.
Juan Cuadrado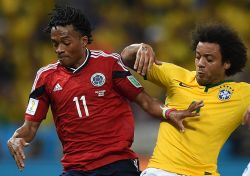 Another player whose name was bandied about with reckless abandon last summer, Juan Cuadrado enjoyed a great World Cup in Brazil with Colombia. Reports coming out of Italy and South America seemed to suggest on more than one occasion that United were on the cusp of a deal in the region of £30m, although given how the deal clearly failed to materialise, it's not quite clear whether Fiorentina, or the player's representatives, were pushing an agenda of their own.
Cuadrado offers the flexibility Van Gaal currently craves by being able to slot in almost anywhere on the right-hand side of the pitch. Given United's current fixation on utilising a 3-5-2 formation in order to accommodate both Robin van Persie and Radamel Falcao, Cuadrado could easily slot in at right wing-back. At present, he would be an upgrade on both Rafael and Antonio Valencia in that position given his dribbling talents going forward and strong tackling when not.
Again, much depends on Fiorentina's willingness to sell one of their prized assets. However, from United's perspective, Cuadrado offers a more incisive alternative to their current options on the right side of the pitch. That in itself could provoke some affirmative action in Manchester.
Ezequiel Garay
If transfer rumours were football clubs, then Garay's oft-touted move to Manchester United would be Benfica and their infamous Bela Guttman curse; often there, but never quite making it.
Garay's move to Zenit St. Petersburg last summer wasn't a total shock given how frequently mutterings of a move to Old Trafford had cropped up, but having enjoyed a strong World Cup with Argentina at the heart of Alejandro Sabella's defence, and given how willing Van Gaal was to pursue Garay's colleague Marcos Rojo at Sporting Lisbon after the tournament ended in Brazil, perhaps this is one perpetual rumour that could finally materialise.
Understandably, Van Gaal wished to run the rule over Jonny Evans, Chris Smalling and Phil Jones before taking affirmative action in relation to his centre-back pairing. Of course, one also considers the fact that Tyler Blackett and Paddy McNair, both academy products, have been given their full debuts in the United side this season as a direct result of injuries to that trio. The aforementioned Rojo has been solid without setting the world alight, whilst the form of Messrs Evans, Smalling and Jones has varied from useful to unreliable to downright reckless.
Garay could easily settle into a squad filled with Spanish speakers whilst offering a commanding presence in a backline that has been desperately short of organisation and presence. Zenit could easily expect to recoup double the £12m they paid Benfica for his services last summer, but given how thoroughly inconsistent and erratic United have appeared at the back at times this season, that won't trouble Van Gaal, or even the club's paymasters too much.
At this stage, a dip into the transfer market doesn't appear out of the question if one of the club's top targets becomes available. Van Gaal doesn't appear to have given up on challenging both Manchester City and Chelsea at the top of the Premier League, so any deal that can be concluded this month could well be pushed through with haste.
A January transfer splurge is unlikely and will certainly not solve everything at Old Trafford, but given the right encouragement, Van Gaal and United could surely fix a problem or two.
The article was provided by Red Mancunian, one of the most popular Manchester United fan accounts in the world. You can follow them on Twitter here or go to www.redmancunian.com.