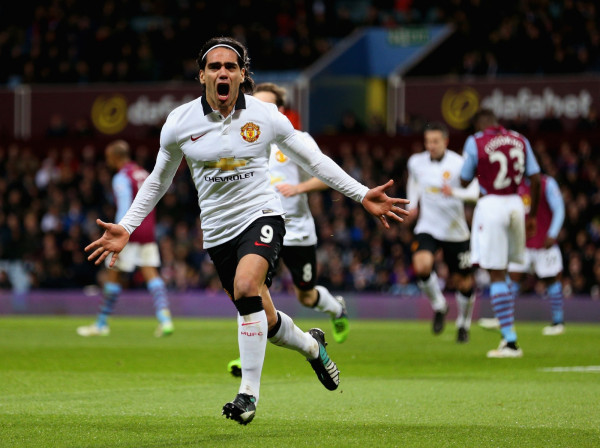 Rarely has a loan deal been the subject of such fascination at Manchester United. True, there are few strikers around the world with Radamel Falcao's ability; his goalscoring records in South America, Spain and France are mightily impressive, but from the minute the reports of a last-minute loan deal from AS Monaco began to swirl, the Colombian's stay at Old Trafford has been surrounded by intense interest.
Two starts, a handful of substitute appearances and two goals later, we're still no nearer to figuring out whether United will stump up the £40m+ needed to make Falcao's move permanent, but a bullet header at Villa Park during United's 1-1 draw against Aston Villa this past Saturday has provided a rather sharp reminder of his ability when injury, fitness or strikers holding greater stock with Louis van Gaal aren't in the way.
Not being privy to the ins and outs of the man's personal life, it'd be unfair to make a sweeping statement about all aspects of Falcao's 2014, but it's certainly been a struggle professionally. Some of that certainly stems from one Soner Ertek, the man who ruled the Colombian out of this summer's World Cup after a tackle during Monaco's cup tie against Monts d'or Azergues in January. That subsequent knee injury meant Falcao didn't return to first-team action until August, notching the only goal in an Emirates Cup victory over Arsenal, and then starring in several Ligue 1 matches until his deadline day switch to Old Trafford.
The deal itself still retains a certain murkiness; Falcao himself confirmed that contact between his representatives and United had been ongoing for a number of weeks prior to the transfer window closing, but bearing in mind the lateness of the deal and Van Gaal's subsequent reluctance to utilise the Colombian, the loan move smacked of an opportunistic last-minute deal that was simply too good for the Dutchman to turn down. A meticulously planned deal this was not, and whilst his enthusiasm for the move feels genuine, Falcao was surely expecting to feature more frequently than he has.
That positivity has likely served him well in these last few months, given how United's current number 9 has been utilised under Van Gaal. Substitute appearances have been his most common contribution, and Saturday's draw with Villa was the first time he has completed 90 minutes in United red. He hasn't been his manager's first pick up front, not by a long shot; Van Persie, a player Van Gaal trusts and knows inside out, has been given plenty of time to regain goalscoring form after a sketchy start to this season, missing just two games so far, and James Wilson has frequently been called upon to stretch proceedings with his pace as a backup option.
Couple that with the fact that Falcao has been attempting to get to grips with one of the most physically demanding leagues in football, whilst rounding off his recovery from injury, and perhaps it's not so incredible that the Colombian hasn't been the first name on United's teamsheets this season.
So it's little wonder the man has released so much tension when he's scored. His winning goal against Everton, turning in Angel Di Maria's disguised low blast, was celebrated like a cup-winning goal and his header from Ashley Young's header was met with an impressive knee slide, the skids of which were left on the Villa Park pitch long after full-time.
Simply put, these moments need to become more frequent this season. Now Falcao appears to be fully fit, and with no more physical ailments to worry about, he can hopefully concentrate on making the most of every playing opportunity that comes his way.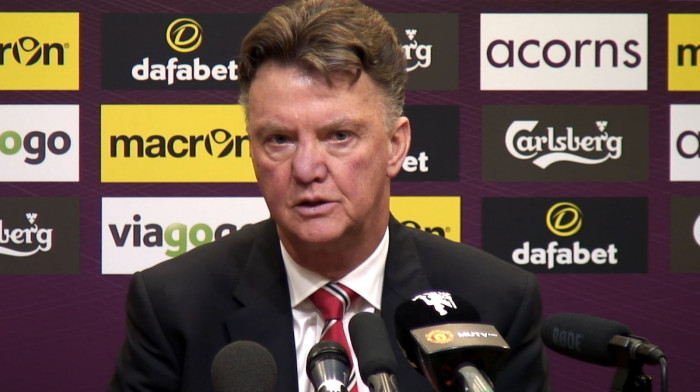 There is clearly a way for the former Atletico Madrid star to force the power brokers at Old Trafford into retaining his services permanently. Scoring is what Falcao does best, and if he can do so on a consistent basis between now and May, then you'd imagine he will force Van Gaal into making a decision. Goals haven't been the rarest of commodities for United this season but given the defensive frailties that continue to afflict this side, the more goals that can be notched, the better.
It won't be lost on van Gaal that Falcao has looked more effective when playing from the start, and given United's lack of cohesion and rhythm, on show frequently during the recent six-game winning streak, a deadly striker suddenly becomes doubly important. With Wilson contributing but not scoring during his recent spurt of appearances and the festive season's steady stream of games now upon us, Falcao's chance to grab a place in United's starting XI is here.
A large chunk of the club's fanbase will be enraptured should the man dubbed El Tigre succeed at Old Trafford. Even in an age where the public is increasingly cynical and doubtful of a footballer's true intentions when they open their mouth, Falcao offers such a genuine touch when being interviewed with his attitude and manner that you can't help but feel that he truly is enjoying his time in the north west. He was happy to confirm his intentions to stay to the press, depending on how frequently he features for his new side.
Truth is, there is plenty of time to Falcao to turn things around. With six months remaining on his loan deal, there will surely be plenty of opportunities for the Colombian to make his mark, provided he steers clear of the treatment table. Van Gaal might not have been clamouring for his services in September, but given how busy his side will be in the coming weeks, he might just offer the sort of opportunity to impress that Falcao has been craving all season.
The article was provided by Red Mancunian, one of the most popular Manchester United fan accounts in the world. You can follow them on Twitter here or go to www.redmancunian.com.