Chelsea's first defeat of the season at St. James' Park on Saturday has made many rethink their initial assertion that Jose Mourinho's side would enjoy a leisurely stroll to this year's Premier League title. It wasn't a wild assumption; Manchester United were sitting in 10<sup>th position after 10 games not long ago, and Manchester City have been wildly indebted to Sergio Aguero's heroics on more than one occasion already this term, with the reigning champions struggling to find their form.
But having taken a solitary point from two games in the north-east, Chelsea now lie just three points ahead of City, with United a further five points behind in third after Monday night's tight 2-1 victory against Southampton. Title talk has been rightly centred around the nation's top two clubs, but after recording their fifth straight victory, should that discussion now feature Louis van Gaal's men?
In some ways, it's definitely worth consideration. Since November's bitterly disappointing derby defeat at the Etihad, the resilience and lethal edge that United have displayed in the following five matches has been terrific. Southampton and Arsenal both outplayed them for large stretches of those tight 2-1defeats, but left with nothing in the face of United's ruthless efficiency in front of goal.
At the Emirates, the counter-attack paid dividends, and at St. Mary's, Robin van Persie registered a brace with his side's only two shots on target. Both times, United were indebted to David de Gea for important saves and the profligacy of their opponents in front of goal, but they were the ones celebrating at full time with another three points under their belts.
To say that it has been surprising, especially after last season's frequent collapses under David Moyes is an understatement. Apart from De Gea and Michael Carrick, who has been at his incredibly useful best since his return against Crystal Palace, you'd be hard pressed to suggest that anyone in a red shirt has consistently excelled this season. The club's array of attacking talent has struggled for fitness and form, with Radamel Falcao failing to complete a full match this season and Van Persie struggling to have any impact on matches at times.
United's lack of fluidity hasn't helped in that regard, with few chances being made on many occasions, but against Southampton in particular, the likes of Wayne Rooney, Juan Mata and Marouane Fellaini, players who have all been key to the club's current resurgence, each enjoyed what could best be described as a stinker.
Van Gaal looked unhappy, and was unable to take full enjoyment from the 2-1 win because of the lingering inconsistency of his team's performances. Last Tuesday, United pressed Stoke well and were guilty of missing good chances that would have made the result far more comfortable; on Monday, their passing buckled under the home side's pressing game and they never fully got to grips with the occasion.
The personnel wasn't radically different either, even if the formation was, which makes the level of performance all the more baffling. Until that desired consistency comes, it's difficult to say just how good this current United side are, or can be.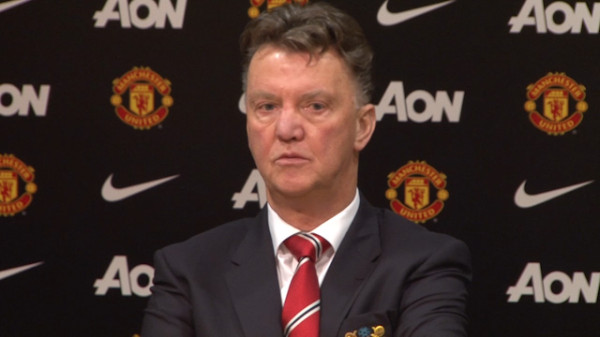 Of course, that starting XI was missing 4/5 players who would have most likely played had they, like so many others this season, not been injured. It's a worrying trend, which is forcing Antonio Valencia and Ashley Young, both natural wingers, to convert to wing-backs, and it means that van Gaal is still no closer to knowing what his best side looks like.
That a winning streak has been maintained despite the chop-and-change nature of United's side each time they turn out speaks deeply of the resilience instilled by their manager. Injuries may come, but this is a side that looks adaptable and appears confident of getting results, whatever is thrown at them. Hyperbole aside, that's something you look for in a title-winning side, make no mistake.
If it was just about winning ugly at this stage, then you'd say that an eight-point gap would be easily surmountable. Yet the defensive frailties that United display all too often are likely to put a dampener on any sustained title charge. Trusted heads and leaders are currently in short supply, with Marcos Rojo, Jonny Evans, Chris Smalling and Phil Jones all experiencing good spurts of form followed by an extended spell on the treatment table.
This is not an easily-interchangeable set of centre-backs, either; the former is a summer arrival with an improving grasp of English and the following three look unable to nail down a spot in Van Gaal's plans to save their lives due to a combination of injuries, poor decision-making and fluctuating form. The continued absence of Luke Shaw and Rafael on the flanks has hardly helped either, regardless of how well Young and Valencia have acquitted themselves.
In fact, the more you mull over United's injury problems and the soft underbelly that is their defence, it's a wonder that this suggestion of them as title contenders has formed at all. Yet United are continually stepping up as of late, and are finding a different hero on a regular basis; Juan Mata did so against Stoke and Palace, Rooney the same against Arsenal and Van Persie obliged at St. Mary's. There are match winners in this squad, and they are putting Van Gaal's side on the periphery of the Premier League title picture. Once injuries have cleared up, and after a potential dalliance in the January transfer window, the potential 'what if?' that this team offers starts to become all the more irresistible.
In truth, few fans expect United to go the distance this year, not after the upheaval and change that has swept through the club since van Gaal took charge of this side. Excursions to the north-east notwithstanding, Mourinho has his Chelsea side too well-drilled to allow an eight-point lead to simply evaporate, at least not as quickly as those last five points did, and City are better placed to take advantage of their next bad result, should it come.
From back to front, both Chelsea and City are stronger than United and have offered ample proof of their cohesion and overall quality. United, for their plus points, have shown little of these attributes, but after a fifth successive victory, it's becoming increasingly difficult to completely banish title aspirations from the mind.
Will they challenge for the league title in six months time, then? Much depends on their opponents; in that sense, Aguero's knee injury and Diego Costa's mini-drought have come at a wonderful time with the festive period guaranteeing games to take quick advantage of any potential slip-ups. Should United find themselves in touching distance of the top come February, who knows?
They might still be falling short in a number of areas, but the way United continue to pick up wins regardless of their deficiencies makes it impossible to fully discount van Gaal and his men. That, in itself, might just be the Dutchman's greatest trick yet.
The article was provided by Red Mancunian, one of the most popular Manchester United fan accounts in the world. You can follow them on Twitter here or go to www.redmancunian.com.