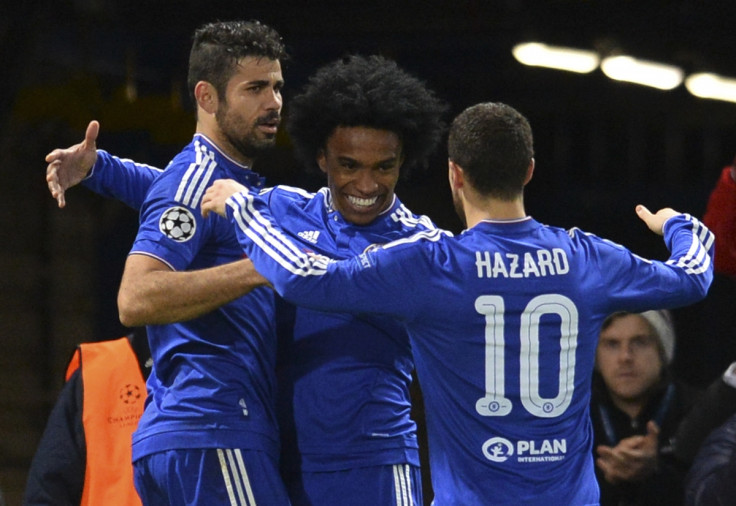 Jose Mourinho is willing to pay up to £60m ($88m) in a bid to sign Willian from his former club Chelsea as he takes over at Manchester United. The 53-year-old has been confirmed to take over at Old Trafford, replacing Louis van Gaal, who was sacked after failing to make the top four last season.
The Sun reports that Mourinho is keen on reuniting with Willian who was Chelsea's only bright spark last season and has been awarded the fans' player of the season award for his brilliant all round performance. The Brazilian scored five goals and assisted six in 35 appearances in the league and is likely to be a key player under incoming manager Antonio Conte.
Meanwhile, the Portuguese manager has already pulled out his transfer list for United and is set to make Zlatan Ibrahimovic his first signing at Old Trafford. The Swede international is out of contract at Paris Saint-Germain and will join the Old Trafford giants on a free in the summer.
He is also set to make a bid for Atletico Madrid midfielder Saul Niguez and is willing to pay up to £54m ($80m) for his services. Real Madrid's Karim Benzema and Everton's Romelu Lukaku are the other two players currently on his agenda. The manager was revealed on Friday, 27 May, with chief executive Ed Woodward stating that he expects the two time Champions League winner to bring United back to winning ways.
"José is quite simply the best manager in the game today. He has won trophies and inspired players in countries across Europe and, of course, he knows the Premier League very well, having won three titles here. I'd like to take this opportunity to welcome him to Manchester United. His track record of success is ideal to take the club forward," Woodward told United's official website.