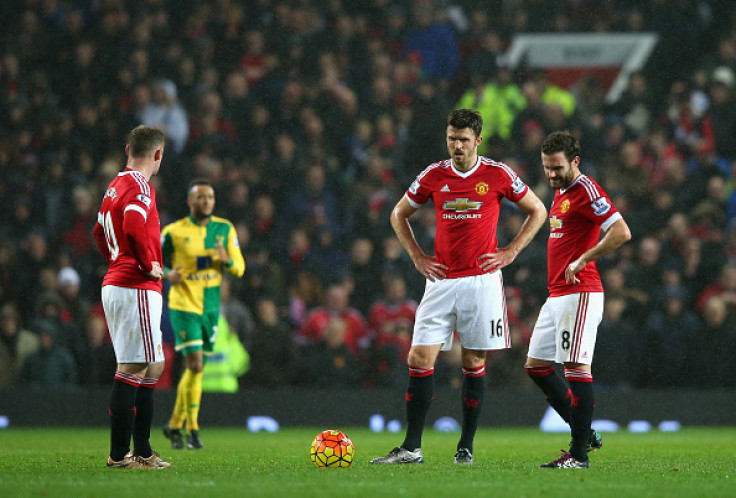 Manchester United midfielder Juan Mata is disappointed by his side's inability to put a string of results together, having seen the Red Devils go six games in all competitions without a win. The run coincided with them crashing out of the Champions League, losing a must-win game against Wolfsburg to set up a Europa League tie against Midtjylland in the round of 32.
Their league form has been extremely dire, losing consecutive games against newly promoted opposition Bournemouth and Norwich City in the space of a week, putting Louis van Gaal's position at the club under jeopardy. The Dutchman has been told that he only has one game to save the situation, with the board set to evaluate his position after their game against Stoke City at the Britannia. Following Jose Mourinho's sacking Van Gaal conceding that no manager is safe if he is not able to deliver results on a consistent basis.
Goals from Cameron Jerome and Alex Tettey led to Norwich's win at Old Trafford, with the Red Devils failing to make the best of the opportunities presented to them to get the equaliser. Anthony Martial's goal halved the deficit in the 66th minute, but Mata and men came out without a single point from the fixture as they fell out of the top four owing to Tottenham's superior goal difference.
"Of course we're disappointed," Mata told Manchester United's official website. "It's another very difficult day for us, but the only thing we can do now is stick together and hope that we get the win in the next game because we need it. We need to win as soon as possible.
"It's very frustrating not to win, especially at home. We should win at Old Trafford if we want to be successful, but we haven't done it. We feel deeply sorry for the fans, I think they're incredible, so we have to do better for them.
"Everyone's frustrated; the fans, the staff and especially us. As I said before, we need to stick together. It's time for us to show that we're strong, we have to fight in every game and get back to getting good results as soon as possible. It's Christmas time, a crucial time, so we have to do it," he added.