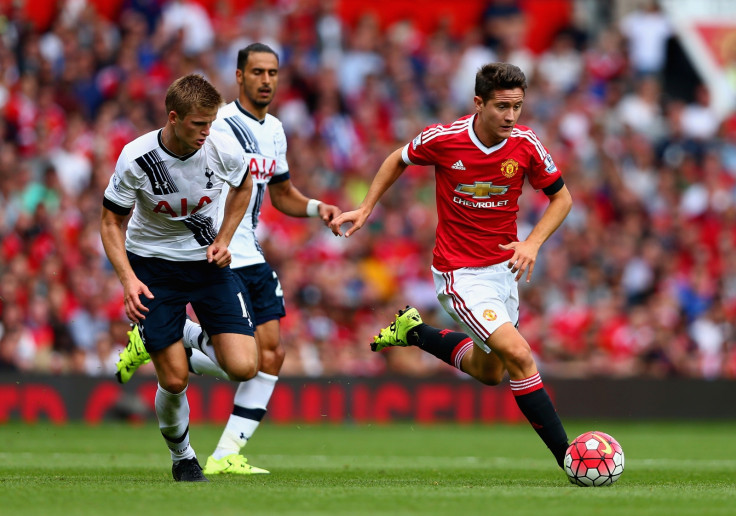 Ander Herrera has admitted that his entire career has been focused around one day playing for Manchester United. The Spanish midfielder got his reward when he moved to Old Trafford in the summer of 2014 and is now ready to take his chance and establish himself as a major factor for the Premier League giants.
The 26-year-old midfielder began as a promising teenager at Real Zaragoza, helping the side earn promotion to La Liga, before eventually catching the eye of United's scouts during his time with Athletic Bilbao. He was linked with a move to the Premier League in 2013 after then manager David Moyes earmarked him as a priority signing – but the deal collapsed when the Basque outfit refused to negotiate his departure for anything less than his release clause.
However, one summer later, following another impressive season in Spain, Louis van Gaal agreed to trigger his €36m (£26m, $39m) release clause to lure him from La Liga
"When I was in Spain, I always thought about the best teams in the world and maybe the biggest and most-supported club is Manchester United. So I worked very hard to be here. When I was in Spain, I was very professional and had to be very consistent to get here," Herrera revealed to United Review.
"Now I am here, I always say the same thing: the most difficult thing is to stay at a big club. Of course, it is difficult to arrive at a big team in the first place, but it is even harder to stay there. The club has the possibility to sign new players and it's a very powerful club so all players want to play here. I have to fight for my position and gain my position and I will do it."
Herrera had a slow start to the life at Old Trafford, but has slowly developed into a firm favourite of fans. Despite injury problems hampering his chances of becoming a first-team fixture, he is determined to the supporters' faith with hard work as he builds his Old Trafford legacy.
"I just say to them, 'thank you'. I thank all the fans because they show me every day and at every game that they are supporting me. The only thing I can do is try to keep fighting and try to keep giving everything within me when I pull on the red shirt. I try to enjoy it," he said.
"What I am doing at United, I enjoy a lot so I don't want this dream to finish. I have to play as well as possible if I want to play as long as I can at this club."