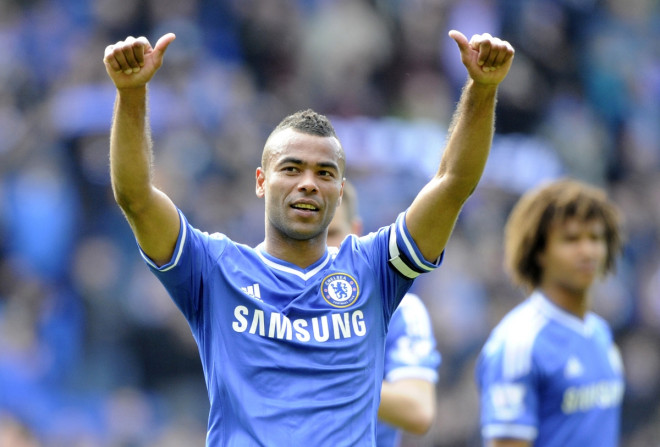 Former England defender Chris Powell has urged Manchester United and Liverpool to sign Chelsea star Ashley Cole in the summer transfer window.
The 33-year-old announced that he could leave the west London club after his contract at Stamford Bridge expires this summer. The Blues have not handed him a contract extension as Cole is weighing in his options for playing in the next season.
Cole had a frustrating 2013/14 campaign as he managed only 15 league appearances for Jose Mourinho's side. The 44-year-old former left-back believes the former Arsenal man could fit easily at United and Liverpool, should he decide to join either of the clubs.
"Ashley has played at the top for his whole career, first at Arsenal and now at Chelsea," Powell told Sky Sports.
"There are rumours that they want a left-back at Liverpool and at Manchester United but whether they will go for experience or whether they will go for a younger player, we'll have to wait and see."
"But he could easily fit into those clubs no problem. He is absolutely capable of doing a job in the Premier League for the next two or three years."
"I think he will be a player much sought after and whoever gets him will be a very fortunate football club and a very lucky manager because they are going to have a very good player," he added.
Cole also ended his international career after being informed by Roy Hodgson that the left-back will not travel with England for the World Cup in Brazil. The Three Lions boss selected Everton star Leighton Baines and Southampton teenager Luke Shaw.
Baines has revealed that Hodgson's decision to drop Cole has given him a confidence boost for the summer event.
"There was always the issue of three of us being considered. The manager could have picked any pairing and nobody would have really questioned it," Baines explained.
"The fact he has chosen me and Luke Shaw is a great vote of confidence because you know what Ashley Cole brings."
"Things can change very quickly so whoever starts the first game has to do the job, otherwise they are not going to stay in the side. Luke is at the forefront of this squad. He's going to be an England international for the next 12-15 years," the Everton defender concluded.