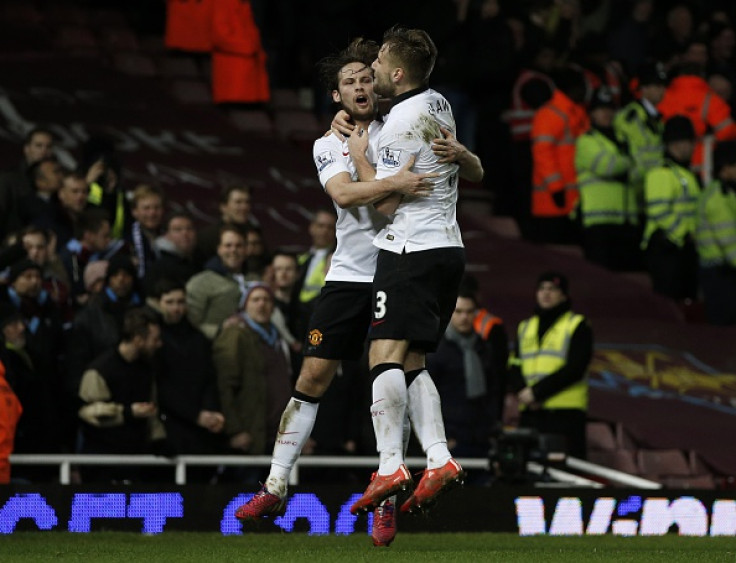 Louis van Gaal has confirmed his three defenders for Manchester United's season opener against Tottenham Hotspur.
The English giants suffered a 2-0 defeat at the hands of Paris Saint-Germain in the last pre-season friendly fixture in the United States on 30 July. For the clash against the Ligue 1 champions, Van Gaal started summer signing Matteo Darmian, Phil Jones, Daley Blind and Luke Shaw in the back four.
Next, United host Tottenham on 8 August and the former Barcelona manager admitted that Jones is unlikely to start in the first league match. However, Van Gaal said he is impressed with Darmian, Shaw and Blind's performance and revealed that he has to consider a partner for the Dutch international in the central defending position.
"I have to start with the formation and when the formation is doing well, I let them pay in that formation," Van Gaal told United's official website.
"I think I shall play [Luke] Shaw with [Matteo] Darmian, and with Daley Blind. The right central position I have to consider. I am very pleased with the performance of Matteo Darmian, and you can see he can play on the right and left."
"Also, a benefit of this year's tour is that we don't have any injuries. Last year I was forced to use, for example, Tyler Blackett and Jesse Lingard in the first Premier League match.
"Now, I have a wider selection and I can use everybody who I think I have to use. There is more competition now and there is more balance in the selection. I have a lot of confidence to start the competition," he added.
Last season, Blind played as a left-back and as a defensive midfielder. However, he has been fielded in the left side of the central defending position during the pre-season tour and Van Gaal claimed he is pleased with his compatriot's display.
"I was very pleased with his performances, not only this evening but also the former performances," the United manager said.
"I think he can build up the game better from that position and he defended very well. I think I shall use him there, but also in midfield and also at left full-back position. I am pleased with his performances over here in USA," he concluded.