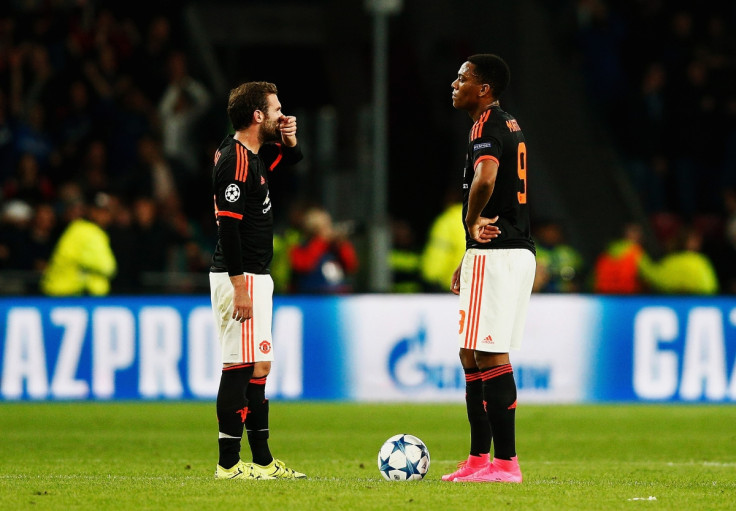 Former Manchester United striker Ruud van Nistelrooy believes Anthony Martial should be occupying the no.9 role instead of Wayne Rooney. The club's £38m ($59m) deadline-day signing Martial came off the bench to score a superb debut goal against arch rivals Liverpool on Saturday 12 September. With Wayne Rooney currently sidelined with an injury, the Frenchman was given the nod to lead Louis van Gaal's attack in Tuesday's 2-1 defeat to PSV Eindhoven.
While Rooney struck a hat-trick in the club's Champions League play-off second-leg win over Club Brugge, the skipper is yet to score in the league this season. And having been impressed with Martial's ability to lead the line, Van Nistelrooy believes the 19-year-old should continue as the focal point in attack, with Rooney reverting to a no.10 role.
"If Martial keeps doing what he did against Liverpool he could be a revelation. On the other side is it really realistic to expect that from him? Hopefully for United he can be the one," the former United poacher was quoted as saying by Sky Sports.
"He looks like the out-and-out striker that is needed. Wayne Rooney is playing in that position but I don't think he is an out-and-out striker. Obviously he can fulfill that role and score his goals but it would be a good combination if Martial was up front and Rooney was just off him. That would be a good strike force."
With Rooney sidelined and James Wilson left out of the match day squad, Marouane Fellaini was van Gaal's only alternative up front as United searched for an equaliser against PSV on Tuesday 15 September night.
BBC Sport reports that Rooney is expected to return in time for the visit to Southampton on Sunday 20 September. While the England international has often thrived in a role just behind the striker, van Gaal was insistent in the summer that the 29-year-old will be his first choice in a central role up front this season.