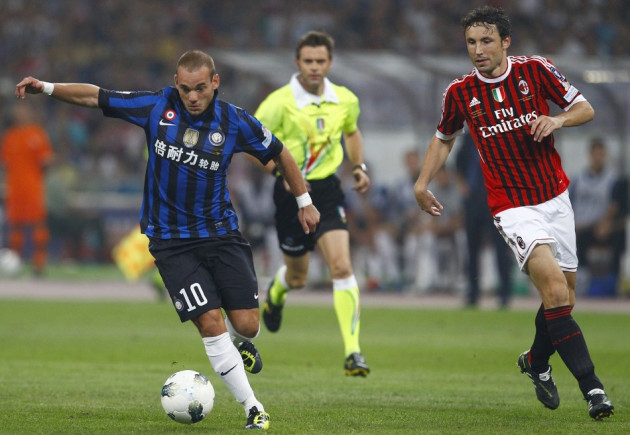 Inter Milan midfielder Wesley Sneijder has told reporters he is for sale should a suitable offer arrive before the end of August.
The Dutch international has been linked with a move to Manchester United throughout the summer, although manager Sir Alex Ferguson remains adamant he is not interested in signing the 27-year-old.
"All I know is that Inter need the money and that I'm for sale if the right offer comes in," Sneijder told Voetball International.
"I have five days off after the international friendly against England on Wednesday. I expect clarity on my future by then.
"I can be very brief about the interest from Man Utd and City: I haven't spoken with either of those two clubs, so I can't really say much about my future at the moment."
Italian newspaper La Gazetta dello Sport reported on Friday that City had signed the midfielder in a €36 million deal. But City manager Roberto Mancini was quick to cool speculation on Sunday, after his side's 3-2 defeat to United in the Community Shield.
"No," he said. "It is not true. He is an Inter Milan player. We never spoke about him."
But Inter coach Gian Piero Gasperini remained coy when questioned about a possible move for the midfielder in the coming days.
"As for the rumour of Sneijder leaving, we will talk about it next week," he said.
Santos playmaker Ganso has confirmed he will remain in Brazil this summer, ending speculation of a move to Old Trafford.
The highly-rated youngster had been linked with United earlier in the summer but he told reporters he is focused on the new season with Santos.
"I have given my word to president [Luis Ribeiro] and I want to make it clear for the fans: I will play the Club World Cup and there will the centenary next year," Ganso said - via ESPN Soccer.
"I have not received any offer and I believe neither have Santos.
"The Santos fans need to know that this fight is between DIS [who own 45 per cent of the player's economic rights] and Santos, and not Ganso and Santos.
"I have given my word and I can guarantee to all the fans I will not leave."
Meanwhile, Ferguson has lavished praise on Nani after the winger's eye-catching display in Sunday's Community Shield victory.
Nani scored twice in yesterday's match and Ferguson believes the Portugal international has the temperament to eclipse Ronaldo's achievements at Old Trafford.
"He is only in Ronaldo's shadow because he is Portuguese," Ferguson told reporters.
"That is the only link I can see. He was never in his shadow in my mind. He has always had great potential but some players take longer to mature than others.
"Ronaldo was an exception. He was an incredible footballer. He matured immediately, from 18 until he left us.
"Nani had a fantastic season last year. He was unfortunate that Antonio Valencia came in at a time when we needed a bit of freshness and a boost to the squad.
"But you have seen Nani's form in pre-season and again yesterday. He will start the season."