Manchester United: Marouane Fellaini's arrival made it difficult for Arsenal, says Mertesacker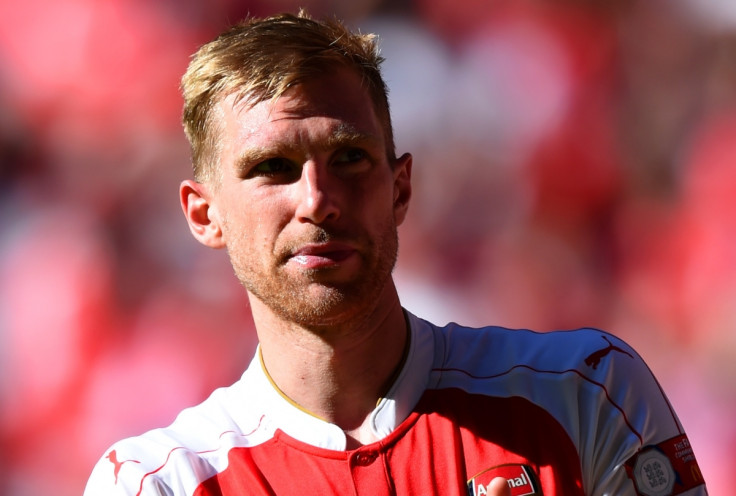 Mertesacker believes that Marouane Fellaini's introduction into the pitch by Manchester United gave Arsenal something to think about as the Belgian can be very physical. The former Everton man started in midfield but went up to hold up the ball for Anthony Martial to attack through the middle.
The Gunners were already 3-0 up in the game but as past results have often indicated, Arsenal have a propensity to capitulate after conceding a goal, like they did against Newcastle a few seasons back when they contrived to draw the game after going 4-0 up in the first half. A similar incident happened last season when they were schooled by Belgian giants Anderlecht, coming back from 3-0 down to draw the game at the Emirates.
Mertesacker revealed that it was a tough fight in the second half and after their performance against Olympiacos in midweek, it was a good comeback from which they can build in the future. The German was partnered with Gabriel as Laurent Koscielny was missing the game with a hamstring injury.
"Defensively it was a tough fight, especially in the second half when Fellaini came on. He is always very physical but we did quite well. We gave them two or three chances, but we have a great goalkeeper as well and he did well also, so defensively I think we can build on that. Now we have a little break and in two weeks we come together again and we have to remind ourselves what we can do," Mertesacker told Arsenal's official website.
The Gunners started the game with aplomb, scoring two goals within a minute through Alexis Sanchez and Mesut Ozil before Sanchez scored his second of the night with a scorcher from just outside the penalty box. Mertesacker confirmed that it was their plan before the game to press United and give them less time on the ball in the opening few minutes, which they executed with perfection.
"Yes, we pushed really hard in the first ten or 15 minutes, and after that we tried to defend as well as possible, and most of the time we did that. The start was not shocking for us, I think we are capable of doing that, but we have to kind of remind ourselves that we can do such things," he added.
© Copyright IBTimes 2023. All rights reserved.