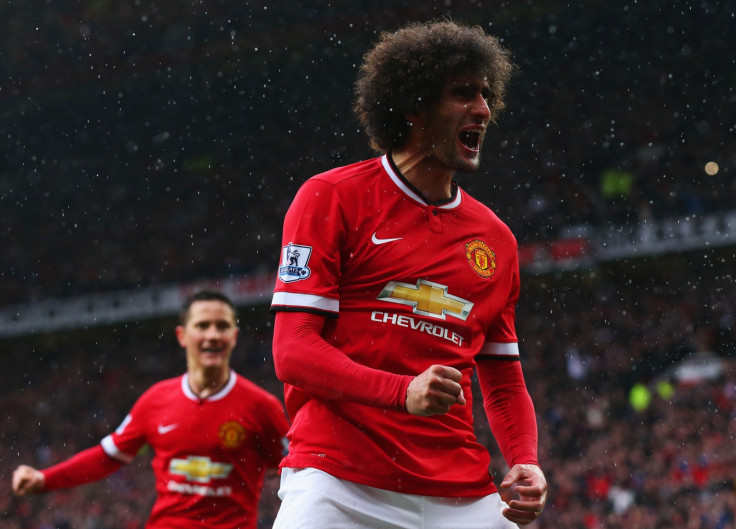 Per Mertesacker believes Arsenal's key to beating Manchester United in their next Premier League game on 17 May will be to control the duels in midfield around Marouane Fellaini.
The Gunners will visit Old Trafford in hope of consolidating their third position on the Premier League table after a frustrating 1-0 home defeat against Swansea on 11 May left them just two points above Louis van Gaal's side, who are currently fourth.
Having already beat United in the FA Cup quarter final thanks to Danny Welbeck's goal, Mertesacker believes Arsene Wenger's side will have a new chance to do it again should they manage to control the midfield while blocking Fellaini.
"We won [at Old Trafford] once and it's possible to do that twice per season," the centre back said. "We are looking forward to it. It'll be a massive crowd again and they will have respect [for us]. We are still in a good mood and have a good level of confidence and we are looking forward to the next four games," the centre-back said.
"I think most important are the duels in midfield, around Marouane Fellaini. Francis Coquelin did really well last time. I think that is a major part of their game so we need to try to control this.
"It's not going to be easy. They obviously want to keep the ball as much as possible. Can we restrict it? Can we get the ball in their half and break? That is what we did last time and we did really well."
Meanwhile, Mertesacker insists in the importance to secure the Premier League top three in order to get the automatic qualification for the Champions League and avoid a play-off.
"[It would be] very important because, when you look at the schedule, the break will not be that much. I think, even for non-international players, it is pretty weird.
"And we have a couple of under-21 players, a couple at the Copa America I think, so it will again be a tight schedule, so we'll try to really avoid that."