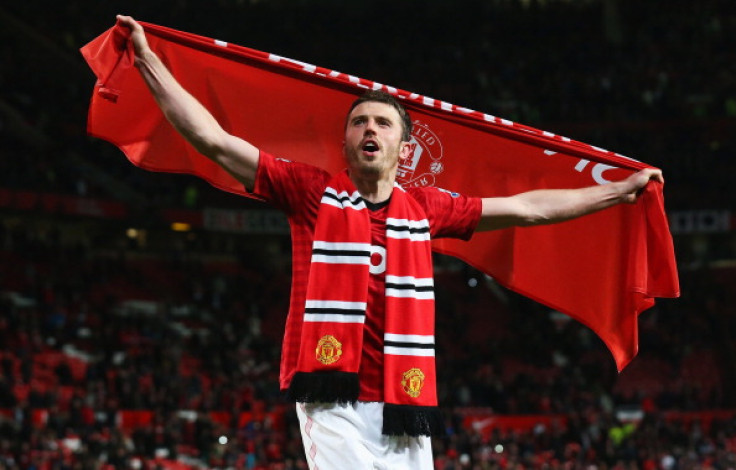 Manchester United midfielder Michael Carrick has handed United a major boost by admitting he is keen to remain with the Old Trafford club even if he is no longer a regular member of the starting XI. The Englishman, who has just over three months remaining on his current deal with the club, is yet to be offered a new contract.
However, the former Tottenham Hotspur midfielder is calm with regards to his future, but is hoping to hear from the club sometime soon. Even if the Red Devils fail to offer Carrick a new deal, there will be no shortage of interested clubs lining up to sign him. According to the Mirror, Arsene Wenger is a big admirer of the midfielder, and after missing out on a couple of occasions, the French coach is said to be ready to make another move to take him to Arsenal in the summer.
The 34-year-old midfielder, however, is keen to remain at United, the club he joined in 2006. The England international has been used sparingly by the manager this season, and he accepts Van Gaal's decision to rest him or not play him for the entire 90 minutes during the game. Carrick has started 17 Premier League games thus far this campaign with a further five coming as a substitute.
"I haven't heard anything just at the moment so I am not sure. Hopefully sometime soon," Carrick said, as quoted by the Manchester Evening News.
"I am not making a big deal of it, to be honest. I will just have to wait and see what happens. I am quite relaxed about it.
"I have been here a long time, I have had some great times here and I love the club. It's a great place to play. Playing games like the derby, it keeps you having that buzz and enthusiasm to play for longer, so we will wait and see what happens," the English midfielder added.
"I have still played a lot of games this season to be honest (he's started 25 of United's 48 games and made seven sub appearances). I haven't really missed many games but, of course sometimes you can't play every game.
"I played a half game against Liverpool, played 70 minutes against West Ham the other night. And to have played in the derby, I have got through that, but in terms of that you just accept that when you come to a certain age you can't literally play every game or full game. That is just part of it. But that's not something that I have worried about at all. As long as I am playing well enough I will be part of the team," he explained.