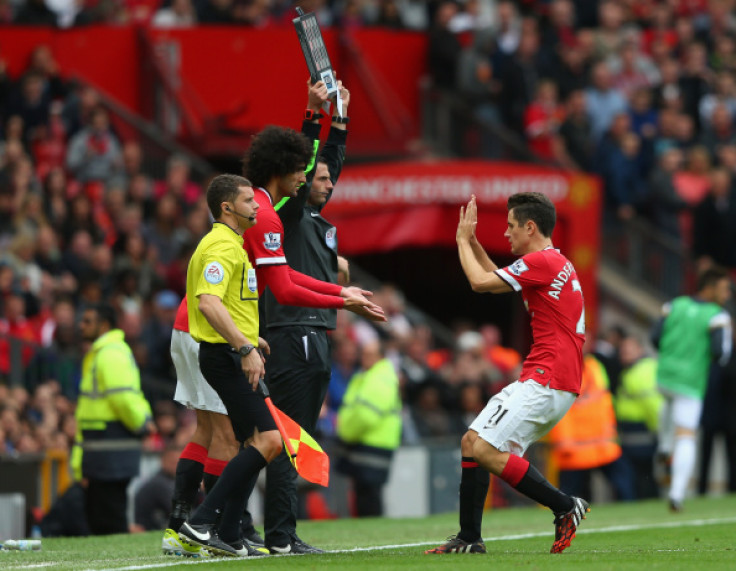 Former Manchester United midfielder Paul Ince believes Red Devils midfielders Ander Herrera and Marouane Fellaini should leave the club, as they will struggle to get regular game time under Louis van Gaal. The former, he believes, is not suited to the Premier League and will be better off in Spain, while the latter has been advised to leave as he does not suit the Dutchman\'s style.
The former Old Trafford favourite admits that Herrera is an outstanding player, but believes Van Gaal\'s policy of playing two holding midfielders in his preferred 4-2-3-1 formation will see the Spaniard struggle to break into the starting XI on a regular basis. The former Bayern Munich manager has alternated between Michael Carrick, Bastian Schweinsteiger and Morgan Schneiderlin for the deep lying midfielder\'s role.
\"When they bought Herrera I thought it was a lot of money and when I first saw him he was small and looked quite weak, especially for the Premier League,\" Ince told 888Poker.com in a wide ranging interview, where he also spoke about Diego Costa and Louis van Gaal.
\"I watched him play in Spain and he suits the Spanish game but I don\'t think he suits the Premier League. When he plays he gets forward and gets a couple of goals but Van Gaal has gone for two strong ones sitting in there and it\'s hard for him to fit into that.\"
\"I\'m not sure he\'s going to be a regular in a Louis Van Gaal side and although he\'s a very good player he\'s just more suited to Spain,\" the former United midfielder added.
Last option
Fellaini, on the other hand, has made just one Premier League start thus far this campaign, and has been mainly used as an impact player coming off the substitute bench. The Belgian midfielder is Van Gaal\'s last option in games when they need to score a goal, and Ince believes this is hampering the midfielder, who excelled in the number 10 role under Davis Moyes at Everton.
The former Red Devil believes Fellaini is too good a player to be sitting on the bench and believes he will be better suited at another club that can give him regular football and utilise his talents better.
\"I feel sorry for Fellaini because the price tag was a lot of money. He played decent for Everton as a number 10 under Moyes but there are certain players in certain teams under certain managers who suit each other\'s styles.\"
\"With Fellaini I think he\'s a very intelligent player but he\'s at the wrong club. For a player of that ability to come on for the last ten minutes in every game more or less just for long balls... I think he\'s better than that and he deserves a chance. It\'s also a sad indictment of United not creating enough chances when they have to throw on Fellaini and put balls into the box,\" Ince explained.
\"He might decide that\'s enough come January because every player wants regular football and he\'s too good of a player to be sitting on the bench.\"