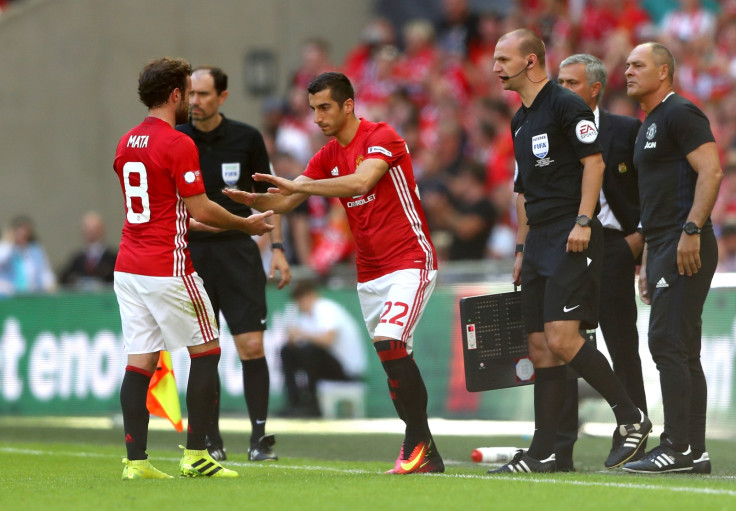 Manchester United have asked Armenia not to call upon Henrikh Mkhitaryan in their upcoming World Cup 2018 qualifiers against Romania and Poland.
Mkhitaryan, a £26m summer signing from Borussia Dortmund, has struggled for fitness since his arrival at Old Trafford. The 27-year-old has started just one game for his new club against Pep Guardiola's Manchester City, where he was taken off after half-time.
In that match, the attacking midfielder aggravated a thigh problem he initially suffered while playing for Armenia against Czech Republic in September. United are keen to ensure there are no further setbacks during this international break.
The Armenian FA wrote on their official website Mkhitaryan will "probably" miss their upcoming matches, also publishing a letter from United's club doctor Dr Steve McNally.
"Henrikh is still undergoing late stage rehabilitation from the left thigh muscle injury that he sustained earlier this month whilst playing for Manchester United," it read. "Although his progress has been good over the past week, he is participating in limited aspects of team training and is not yet able to train fully without restrictions or play competitively.
"In view of that, I would be grateful if he could be allowed to withdraw from the national team for the forthcoming training camp and Fifa World Cup qualifying matches in order to remain in Manchester to complete his rehabilitation."
Mkhitaryan has managed just 104 minutes for his new club this season, making cameo appearances off the bench against Bournemouth and Southampton before an impressive half an hour against Hull City.
United will be hopeful their summer signing will complete his recovery during the international break with some huge fixtures looming in October. Mourinho's side travel to Anfield to face arch-rivals Liverpool on 17 October, before taking on Jose Mourinho's former side Chelsea at Stamford Bridge on 23 October.