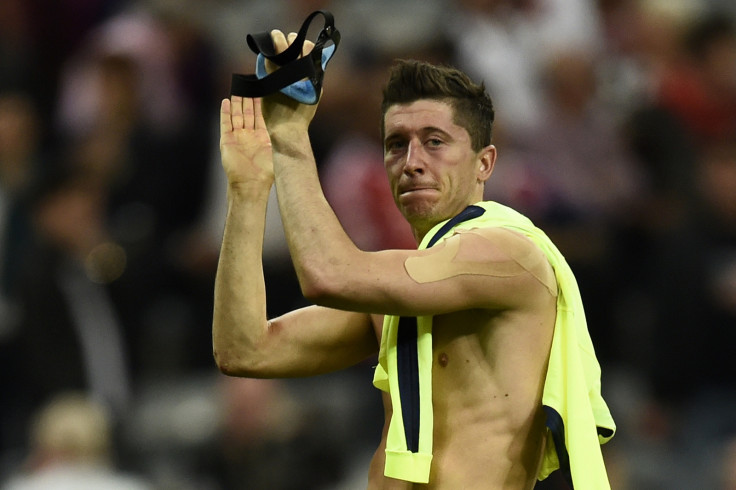 Manchester United have been told only a bid in excess of £35m ($54.7m) would be enough to prise Robert Lewandowski away from Bayern Munich.
The Poland international scored 17 league goals as Bayern romped to the Bundesliga title last season and the 26 year old is regarded as one of the hottest strikers in Europe.
United are likely to be in the market for a new forward after allowing Radamel Falcao and Robin van Persie to leave the club this summer, but player agent Cezary Kucharski says Louis van Gaal's side face an uphill task to fill the void with Lewandowski.
"I think it would have to be a very high offer, definitely higher than £35m, for Bayern to consider selling," the representative told Polish television, according to Sky Sports, when asked about United's hopes of signing the ex-Borussia Dortmund striker.
"Robert is one of the most valued strikers on the market, he guarantees goals, guarantees assists, excitement. He has shown that over many years during his career.
"Every year he is an even better player and plays at a higher level and that is very important for other clubs because he has credibility and guarantees at least 30 goals a season.
"With a player of Robert's class, the truth is that not a lot of work is required because really there are only two directions in which he could go in the future, England or Spain, and only with Bayern Munich's acceptance.
"There must be a signal from the club, from Munich. There is no such signal so we are not thinking about it, because even thinking about a change of club would be unfair in my opinion to the current employers.
"There is no reason, apart from money to be honest, to even think about it."
Lewandowski was heavily linked with a move to Old Trafford in the summer of 2012 but refused to address his future while playing for Poland at the European Championships.
In the summer of 2014, Lewandowski left Dortmund for league rivals Bayern on a free transfer after running down his contract at Westfalenstadion.
Having allowed Falcao to leave after a season-long spell, with the Colombian moving to Chelsea for the 2015-16 campaign, and Van Persie joining Fenerbahce, United have wafer-thin attacking resources heading into the new campaign.
Wayne Rooney and James Wilson have travelled as the only recognised strikers on the club's pre-season tour and Van Gaal is expected to address the position in the remaining weeks of the transfer window.