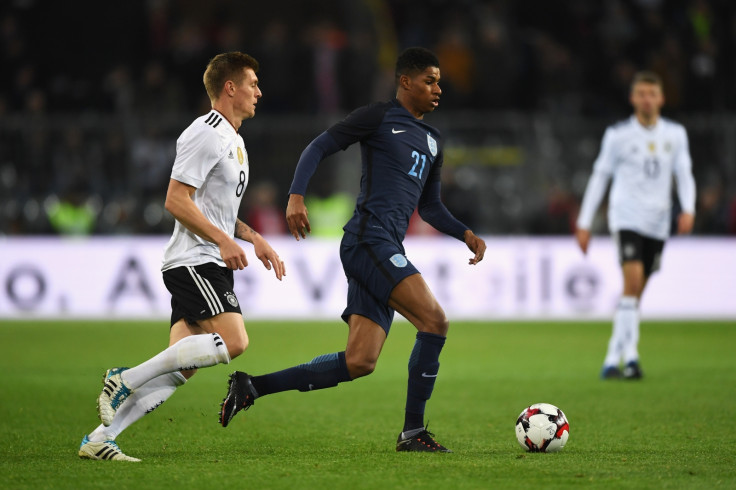 Manchester United legend Ryan Giggs has urged striker Marcus Rashford "to mix his game up" and be more unpredictable in order to become a better all-round player.
Rashford, 19, has shown glimpses of his talent for United this season but has scored only three times in 22 league appearances for Jose Mourinho's side. He looked lively when he came on for the last 30 minutes of England's 2-0 World Cup qualifying win over Lithuania at Wembley on 26 March.
Speaking after England's victory, Giggs said Rashford needed to add more to his game and score more goals to become a top quality striker.
"He's a threat, he's a talent. The one thing I would say just at the moment, because he's not scoring, he just needs to mix his game up a little bit," the Welshman was quoted as saying by the Daily Mail.
"More one-twos, more just laying it off, because at the moment he's getting the ball and he's taking players on – it's working – but you can't do that every time.
"Sometimes you've just got to keep the defender guessing. Just control, pass, lay it off and then the next time you run at him
"It's constantly cat and mouse and keep the defender guessing because he has got everything. He can run in behind, with and without the ball."
Rashford said at the weekend that he was keen to play for England at the U-21 European Championships in Poland this summer, despite already having won eight caps for the senior England team.
"It is up to the coaching staff and the managers to decide if I go to that," the 19-year-old was quoted as saying by Sky Sports.
"But if I do go, I'll be approaching it with the same attitude as I do to the seniors. It is exciting times.
"Getting tournament experience is massive, as long as everything is aiming towards the long-term objective. We obviously want to be successful and win trophies."