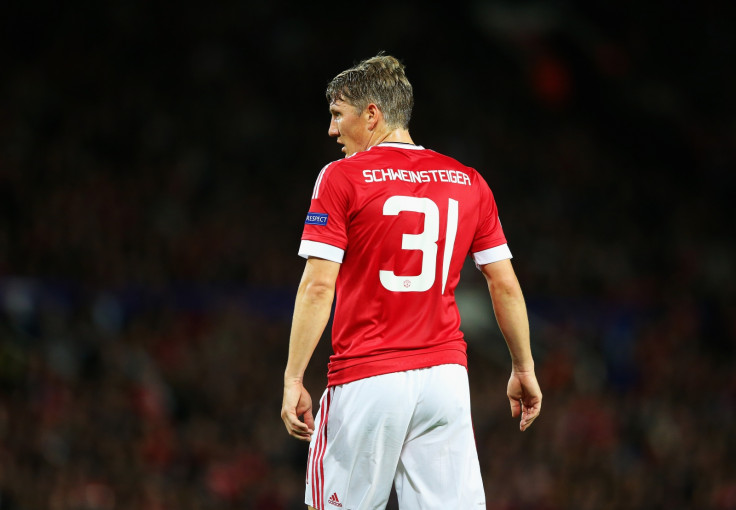 Manchester United midfielder Bastian Schweinsteiger has vowed to help youngsters Anthony Martial and Memphis Depay reach their full potential at the Old Trafford club. The two were signed this summer along with the experienced German midfielder and have made fine starts to their careers with the Premier League giants.
The French forward arrived from AS Monaco in a reported £36m ($54.8m) deal, and was under considerable pressure to perform following the big money move. But Martial has taken to English football like the proverbial duck to water, and has already impressed with four goals and one assist in five games in all competitions.
Memphis, on the other hand, has had a slower start on the goal-scoring front, but his impact during games has been as telling as the Frenchman, with the Dutchman scoring four and providing as many in 11 games in all competitions.
Schweinsteiger is confident that the two young summer arrivals can live up to expectations and be a major force for United in the future. The German international, who has won the World Cup and the Champions League in the past, has vowed to use his experience and guide them through the Champions League, which he believes is at a different level compared to the domestic leagues. The Red Devils are travelling to Germany to face Wolfsburg in their second group stage clash on Wednesday (30 September) night, and Van Gaal will be hoping to get their first win of the competition against the Bundesliga side.
"I will try to guide them, of course," Schweinsteiger told United Review, as quoted by the Manchester Evening News. "I have played a lot of matches at that level and it is always a little bit different to Premier League and Bundesliga games. It is always a special night when you walk onto the field and the anthem comes on.
"It is a big honour to play Champions League games, so I will try to give my best and try to help my younger team-mates. They are both very young but both very talented," the German midfielder added.
"If they make the right decisions and take the right steps in the future, then they can give a lot of power to Manchester United. For me, the most important thing is that they have a good personality and a good character, and they do! That is what's most important, and with the quality they can achieve a lot," the 2014 World Cup winner said.