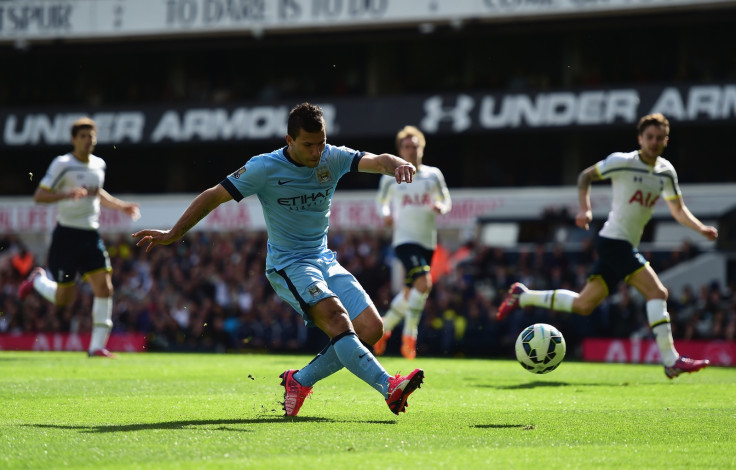 Manchester United legend Andy Cole has advised Louis van Gaal to end interest in Tottenham Hotspur striker Harry Kane and sign Sergio Aguero.
The Argentine international has been instrumental since making a switch from Atletico Madrid to the Etihad outfit in 2011 and helped them win two league titles. Moreover, United allowed Radamel Falcao to leave at the end of the Colombian's season-long spell at Old Trafford and now are looking to sign a top striker.
The 20-times English champions have been linked with a move for Kane as they look to bolster their strike force for the next season. The England international is valued at around £40m ($62m).
Cole says the former Barcelona and Bayern Munich manager should sign a proven striker and has urged him to make an approach for Aguero.
"Luis Suarez went for around £60m last summer, so I'd be putting another £20m on top [of the reported Kane fee] and try to find a top, top striker," Cole told Sports Mole.
"What I'd do, I'd be cheeky and bid £60m for Sergio Aguero, just like Manchester City did with Wayne Rooney a few years ago."
"[Kane]'s had one season and being brutally honest, he did very well. When your luck is in, it's in. Whether it's paper talk or not, £40m is a hell of a lot money for where Manchester United need to try to get. They need to do well in the Premier League and in Europe,"
"At that money, you would be gambling. It could be all paper talk, but £40m is a hell of a lot of money," the former United striker added.
Meanwhile, Cole has also warned his former club that they need to start the next season on a winning note. United suffered a 2-1 defeat to Swansea City at the start of the 2014-15 season and the ex-England star claims starting the new campaign strongly is very important.
"You have always got to start the season strongly. We can all moan and groan about fixtures, playing here and playing there, but you have to play all of the games regardless of when they are," the Old Trafford legend told United's official website.
"It doesn't matter if you get drawn the tough games early doors because you have got to win those tough games. If you get them later on, then you still have to win them. To win the title you have to win football matches, it's as simple as that. We will just have to wait and see," he added.