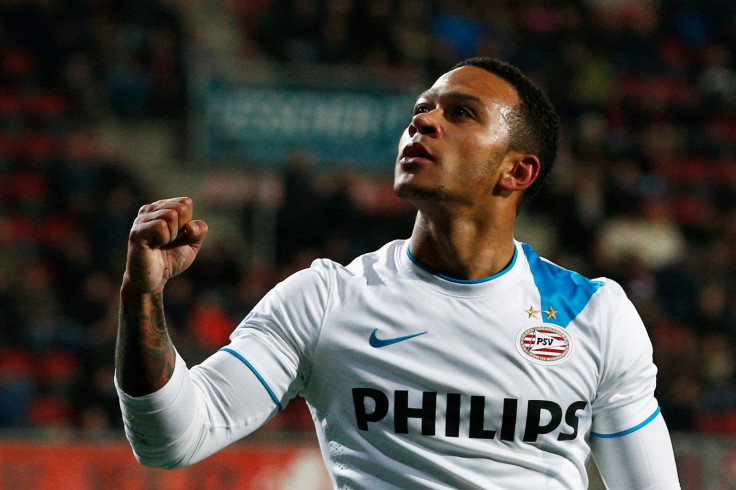 Manchester United's newest signing Memphis Depay has been praised as a 'special talent' and backed to succeed in the Premier League by legendary compatriot Marco van Basten.
Dutch forward Depay, who was handed his senior international debut under Louis van Gaal and made four appearances for the Netherlands at the 2015 World Cup, scored 22 goals to help fire PSV Eindhoven to the Eredivisie title last season and was rewarded for such fine form with a transfer to Old Trafford.
United are in need of enhanced firepower this summer with Radamel Falcao set to return to parent club AS Monaco following the end of his disappointing loan spell and doubts also persisting regarding the future of Robin van Persie.
While it might be deemed slightly unrealistic to expect Depay to adapt immediately to his new surroundings, Van Basten has been effusive in his praise for the 21-year-old and clearly believes he has what it takes to showcase his best form in England.
"He's a special talent. He's better than the rest," the former Ajax and AC Milan striker told Sky Sports.
"He's a very good player. He's a young star who is strong and has his own ideas, which I think is a good thing for a player.
"He's also a guy who still wants to learn and he's in good hands with Louis van Gaal who has already worked with him at the World Cup.
"He now has to demonstrate that he can also play well in England. He will show that to you. I don't know whether it will be quick and come in the first year but he has the skills to succeed in England."
Van Gaal, keen to continue his policy of offering greater opportunities to young players, obviously has an intimate knowledge of Depay's abilities and has previously sought to calm the excitement regarding his arrival by stressing the need for patience with regard to his future development.
"Youth is very important to this club and is a very big part of my philosophy as a manager," he wrote earlier in May.
"We have a number of young players in our first-team squad who have benefitted from experiencing first-team football this season and that will help their development going into next season.
"The plan is to help him (Depay) develop as a player, but we must all be patient. The Premier League is very different from any other league and it will take time for him to fully adapt to the pace and unforgiving nature of football in this country."
Depay has not been officially presented as a Manchester United player just yet, although with a deal agreed and a medical already successfully undertaken such an unveiling is expected to take place in early June.