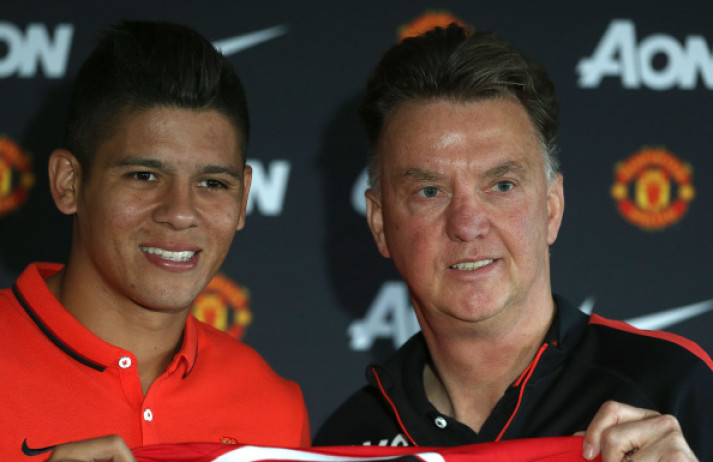 Manchester United's new signing Marcos Rojo has heralded the brilliance of manager Louis van Gaal, claiming he knows how to "bring the best" out of his players by demanding a lot of them.
Van Gaal signed the versatile defender earlier this summer for £16m - with winger Nani returning to the Portuguese club on loan as part of the deal- after the Argentine international produced a string of convincing performances during the World Cup.
Rojo missed the first three Premier League games of the season after his UK visa was delayed, but has since become a crucial asset in van Gaal's back-line – playing both as a left-back and in the heart of the defence.
The 24-year-old has claimed he is enjoying his time in the Premier League and believes his best is yet to come, as Van Gaal is helping him to become a better player.
"Van Gaal bring the best out of the players. He's brilliant. He's always giving me advice, telling me how to improve my game, my movement," the defender told Manchester United's official website.
"He's a great manager who always wants to win and that's the message he gets across to us. He wants the best and that's what he demands from his team."
Rojo has also revealed paying in the Premier League is a dream com true, as he has wanted to play in England since he was a child.
"It's the biggest league in the Europe and probably the world. I've always loved watching Premier League football and wanted to play here.
"The football is very direct, quick and physical, which makes it attractive for the fans. I really like playing here – I'm relishing the challenge."
With the United squad being heavily hit by injuries during the start of the campaign, Rojo has had to adapt to different partners, including debutants Tyler Blackett and Paddy McNair.
The Argentinian accepts the challenge and claims United have shown they possess a deep squad as well as a good academy.
"It's never good to have too many injuries, but this is a big club and there is a lot of depth and quality in the squad" Rojo said.
"I'm happy playing alongside all the different guys because I'm very comfortable with all of them. I've played with Paddy and he is a player with a big future. Tyler has impressed too. But I just love being on the pitch and I really don't mind who I play with."