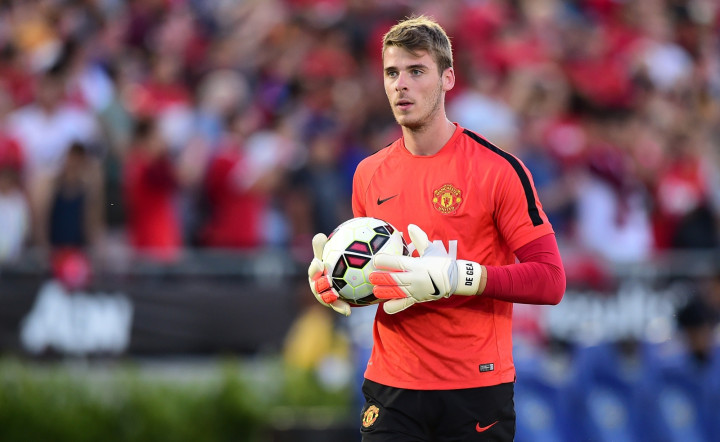 Manchester United goalkeeper David De Gea has encouraged Real Madrid's Cristiano Ronaldo to return to Old Trafford.
The Portuguese star has been heavily linked with a return to the Premier League in recent months after he suggested he may finish his career at Manchester United. Meanwhile, United manager Louis van Gaal claimed the Red Devils would be open to re-signing him after selling him to Real Madrid in 2009 for £80m.
Ronaldo admitted "he has a family" at Old Trafford and thanked United's supporters after a fans' group (United Reel) hired a plane to fly a banner message that said "Come home, Ronaldo" during the Real Madrid victory over Villarreal at El Madrigal Stadium.
De Gea has now claimed he would love to have the Portuguese star back at Old Trafford.
"Of course I would like Cristiano Ronaldo to come to Manchester United," the keeper said to Goal.
"But I think it's difficult."
Meanwhile, De Gea has hailed the arrivals of Angel Di Maria and Radamel Falcao during the summer, with the pair making an impressive start to the campaign.
"They have adapted quickly, both scoring and supplying assists. They will make us better as everybody knows how well they did in Spain [with Real Madrid and Atletico Madrid respectively]," he said.
"I hope they score a lot of goals for Manchester United."
De Gea also spoke about his latest performance in the victory over Everton last weekend, where he saved a Leighton Baines penalty in the first half before making a tremendous stop against a Bryan Oviedo shot in injury time to give United three points.
"It gives you a lot of confidence. It was an important victory for the team and I will always remember it. It was one of the best [performances] I've had and, most importantly, because it ended in victory," he said.
"There are days when you play a great game but end up not winning. So in that sense, it was a perfect match."
Following a tough start to the season under Van Gaal, United are fourth in the Premier League and De Gea hopes to keep progressing in the games after the international break.
"There are lots of new people, a new coach, new concepts. In the end, it is a process. The coach knows we will improve and slowly pull upward," he said.
"We're starting to win games now and, with time, we'll be there. We will fight. It is important to get into the Champions League with Manchester United, to be among the best in Europe. Hopefully we can win a title, too."