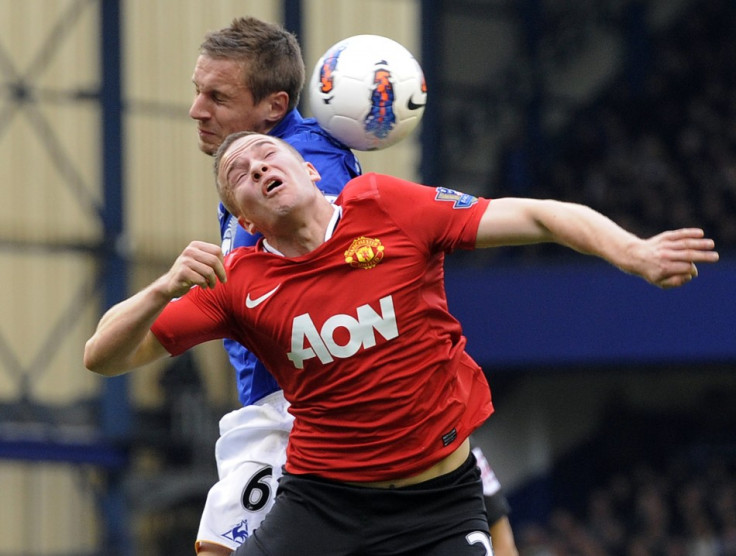 Darren Fletcher concedes Manchester United have sorely missed the creativity provided by Tom Cleverley during the prodigious youngster's recent hiatus from first team duties.
The Manchester United midfielder was ruled out until the new year with the ankle injury that has thus far hampered his season. The emerging England youngster had been the catalyst behind Manchester United's excellent start to the season and Sir Alex Ferguson's side have suffered in his absence; something Fletcher freely acknowledges despite Cleverley's relative inexperience at Old Trafford.
He returned to Manchester United in the summer after his successful season long-loan at Wigan Athletic, and the aforementioned Scot believes his young teammate is more than matching up to his burgeoning reputation.
"Tom will be very disappointed personally, as we are as a team. He had been performing so well and had a great start to the season," The Manchester United midfielder told Sky Sports.
"The important thing now is that he gets the injury right. It is one of those niggly ones. He came back and had a recurrence."
Cleverley's initial injury, sustained during Manchester United's victory over Bolton Wanderers following a typically firm challenge from Kevin Davies, was exasperated during his comeback against Everton.
Initially the 22-year-old had been tipped to make a much needed return after the international break, but Fletcher suggests it is important Manchester United get him completely right in time for the business end of the season.
"The best thing for him to do is get himself right," Fletcher added. "He will be an important player for the remainder of the season and hopefully the push for silverware.
"He is thought very highly of and rightly so because of his performances.
"People say he is still young but he has had a lot of experience. He was in the Premier League with Wigan last year and had a loan spell at Watford. He did fantastically well at both clubs.
"We are delighted to have him back from Wigan. He is an important part of our squad now and has fought his way into the team with some great performances this season,"
Such is the almost immediate impact Cleverley has made at Manchester United, some well-informed observers feel he is the best prospect to emerge through the club's ranks since a certain Paul Scholes.
Manchester United's famed former youth team coach, Eric Harrison, who nurtured the iconic 1992 generation of Paul Scholes, David Beckham, Ryan Giggs, Nicky Butt and the Neville brothers, claims he is the finest of a potentially great group of players coming through at Old Trafford.
"Cleverley is the best home-grown young player Manchester United have had since Paul Scholes. No question," Harrison told ESPN.
"It's been a long time coming but they're getting very close to the group I had - Ryan Giggs, Paul Scholes, David Beckham - that glorious group which we call the Class of '92."