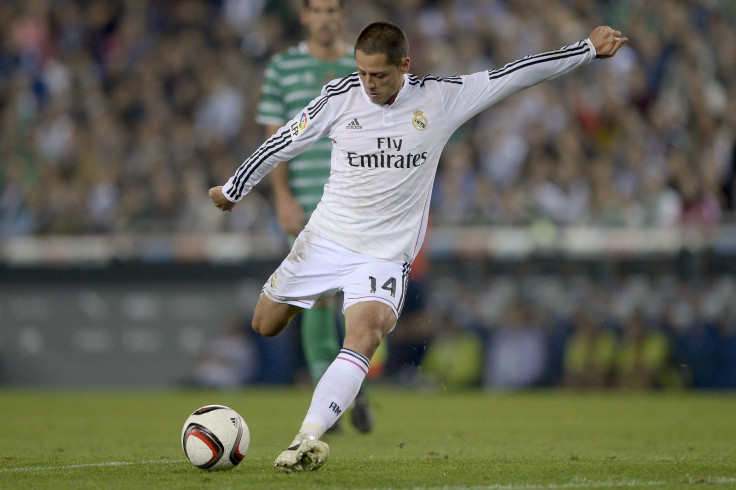 Manchester United striker Javier Hernandez has hailed Real Madrid as the best club in the world after getting some much needed game time due to the injury suffered by Karim Benzema.
The Mexican forward is currently on a season-long loan at the Spanish capital club, but has had to endure a frustrating time thus far due to a lack of game time. He has made just seven starts for the club in all competitions and this has annoyed the striker, who aired his dissatisfaction earlier in the season.
But the recent injury to Benzema provided Hernandez with an opportunity to make a mark for himself.
He first made headlines following a late winner against local rivals Atletico Madrid to take Real into the semi-finals of the Champions League and followed that up with a brace against Celta Vigo to keep the European champions within touching distance of Barcelona in the La Liga title race.
The player, who is now enjoying his football, has admitted that he is unsure of his future, but is ready to give his best to ensure Real have a strong finish to the season.
"I am a Madrid player. I'm not sure if that'll be for a long time so I want to make the most of the minutes I am with the best team in the world," Hernandez said, as quoted by the BBC.
Colombian international James Rodriguez has praised the United striker for his recent exploits and believes that Hernandez deserves all the plaudits due to his hard work in training and the patience he has shown despite not being an integral part of the team during the course of the season.
"He's in great form. He deserves what is happening to him now for the way he works in training and the patience he has shown," the Colombian midfielder added.
"He works really hard and helps the team. He has a lot of quality, he's a top player who trains hard and it's good for the team if he stays."