My fellow IBTimes UK columnist David Chidgey has written about the Arsenal-Chelsea game and the perception that Jose Mourinho is a negative manager. As ever, he talks a lot of sense.
I'd just like to raise another point. Everyone is talking about Mourinho being boring and cynical, but what about Wenger? I didn't see Arsenal throwing men forward or flooding the wide areas on 26 April, and I didn't see much support for Olivier Giroud up front. In fact, Wenger took off his French striker Arsenal's top goalscorer this season, with the game still in the balance.
If the pre-match hype was to be believed, Arsenal were the team that needed to win the game, so why did Wenger not show more ambition?

'Chelsea's current striker crisis is surely a problem of their own making. In many ways it explains Mourinho's pragmatic and perceived negative approach'
Read David Chidgey's take on Sunday's game here.
Personally I think he was just as happy with a point as Mourinho. Manchester United's defeat meant a draw was a good result for Arsenal, so there was no need for him to over-commit. Arsenal have got some very winnable games now, and they should seal that second spot. Wenger played a low-risk game but, as ever, he escaped criticism because he remains a media darling. The public perception paints Wenger as the dreamer, Mourinho the pragmatist, and sometimes that warps the media narrative.
I also feel that the criticism of Mourinho ignores the fact that he has done a brilliant job with Chelsea's defence since the 5-3 defeat at Tottenham on New Year's Day. Since that game, Chelsea haven't gone behind in a single game in either the Premier League or the Champions League. That's 15 matches, if my sums are correct.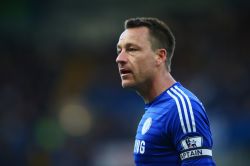 It's a great stat, but the main conclusion you can draw is that Chelsea have hardly conceded any goals. Mourinho was furious about the defending during the Spurs game, and he's gone back to basics. If you think Chelsea have been a little dull this calendar year, that's probably the reason. Mourinho saw a problem and addressed it; he shouldn't be criticised for doing what any other manager would have done.
With that draw at the Emirates, I think the title is over, if it wasn't already. And, to be honest, I can see Chelsea winning it again in 2016 as well. Arsenal, Manchester United, Manchester City and the rest have to come up with an answer to Mourinho's tactics, because no one has been able to do it yet.
Chopping and changing
People say Mourinho has relied on a small nucleus of players this season but the flip side of that is that everyone else has chopped and changed. Chelsea have a core of 14 outstanding players and anyone who follows football closely would be able to name their best XI.
Can you do that for any of their challengers? I don't think so. Each of those sides has too many makeweights, too many players who fall beneath the standard of an automatic first-team pick.
United and Arsenal both need some fundamental surgery. If David De Gea leaves for Real Madrid, Louis van Gaal will have to fix every single vertebra down the spine of his team; he'll need a new goalkeeper, defender, midfielder and striker.
The defeat at Everton highlighted the weaknesses of United's team. I'm not a particularly big fan of Michael Carrick but they clearly rely on him and Daley Blind isn't strong or commanding enough to be an effective replacement. Radamel Falcao is no longer a top-level striker, while the defence continues to crumble under pressure.

'Playing in the Europa League could put a dampener on Liverpool next season, a detrimental distraction that would put paid to any sort of league title challenge'
Stacey McIntosh discusses Liverpool's draw with West Brom. Read the piece here.
Arsenal will also have to improve in all key areas of the pitch. I'm not convinced by David Ospina (that view was hardly helped by his challenge on Oscar) and in defence they're in desperate need of a leader, a "new Vincent Kompany" if you like.
Coquelin, like Blind, is too frail for the task of being a top-quality defensive midfielder and Olivier Giroud misses too many chances to be considered a striker of the highest class. Arsenal are slightly ahead of United at the moment but both sides remain a long way off Chelsea.
With City a mess, and Liverpool miles off challenging for the league, it's hard to see past Chelsea winning the league title in successive seasons. That's not to say Mourinho doesn't have to make changes of his own; Petr Cech will leave and will need to be replaced, and I can see Filipe Luis moving on as well, so a new left-back will be required. I'd like to see Mourinho sign Sami Khedira to replace John Obi Mikel, and bring in a new striker to support Diego Costa up front.
But whereas Arsenal, United and the rest require fundamental surgery, Chelsea's squad requires only minor tweaks. The key areas of the pitch are already patrolled by top-quality players, the most important pieces of the jigsaw firmly in place. People who take umbrage at Mourinho's style had better get used to it, because anyone who wants to topple Chelsea from their perch next season faces an almighty challenge.
Jason Cundy was a hero at Stamford Bridge as a no-nonsense centre-half during the early 1990s. Today he presents the popular Sports Bar radio show on Talksport, and you can find out more about his work with the station here.
He also commentates on Chelsea games for Chelsea TV, working with fellow IBT columnist David Chidgey,and is a prolific member of the Twitterverse.