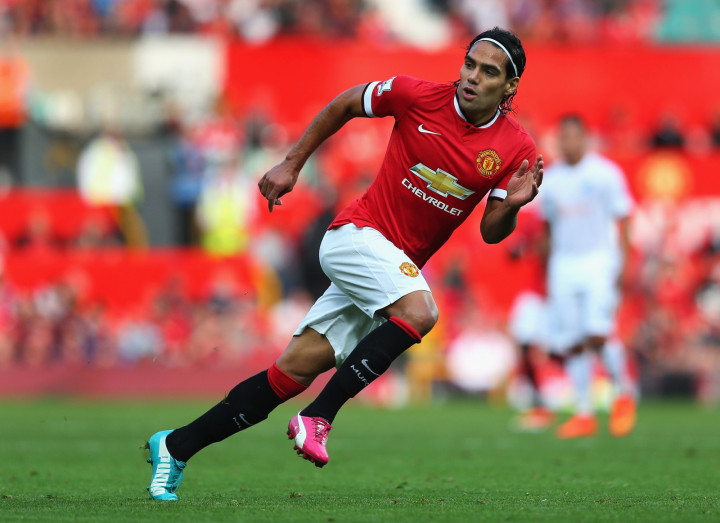 Manchester United striker Radamel Falcao has claimed every football player in the world use ice after football games and training sessions - to once again play down the concerns about him having a new long-term injury.
The Colombian international has been unable to play since suffering a calf injury in training ahead of the Chelsea clash on 26 October – missing three Premier League games.
But after Falcao already missed eight months of action with a knee injury during last season, some reports have suggested he may face another long-term absence – as the striker appeared in some pictures with ice on his knee.
However, Falcao has claimed his latest absences are due to a calf injury and have no relation to his previous knee issues.
When asked why he used ice on his knee, he said: "People who have some knowledge of football or any other sport know that the ice is generally used by athletes."
"But for people who do not know sports it may seem strange, even nowadays women use it as a therapy for the body. Every footballer uses it. It is totally normal," the striker said to DirectvSport.
"Generally every day after practice we have bathtubs with ice. I think every club in in the world use it to help the players to do a speedy recovery."
The Colombian striker was expected to return to action for the game against Arsenal on Saturday 22 November.
However, van Gaal recently claimed he will be two further weeks on the side-lines.
"I'm fine, I have trained very hard lately to return soon to the pitch. I feel pretty well. The calf problem has responded favourably," Falcao said.
"I had a very severe contusion in the soleus. It is a very dangerous area. So you have to take precautions to avoid a long term absence in the future.
"He will have to decide. I'm constantly evolving every day, always taking the necessary precautions to return 100% fit. I am eager and very excited to be on the pitch again. I'm close to playing but I have to be cautious."
Having only scored one goal in three starting appearances at the Premier League since his sensational deadline day loan from Monaco, some have also questioned whether he can replicate his best form at Old Trafford.
"When a player comes to a new league, with the numbers like I had in my previous clubs, it is normal there are high expectations," he said.
"Unfortunately I have had to be out in few games due to the injury. I've played five games, three of which I started. What I needed was to play to get use to the new league and when I have played I believe I have not had any problems. I think I've played well. I am very calm and happy."