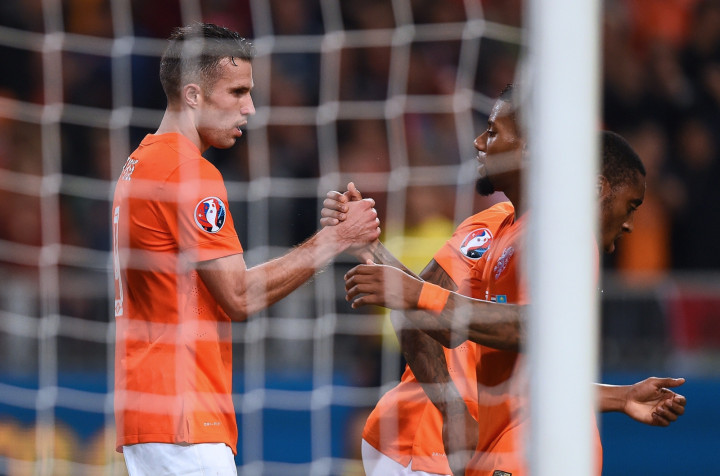 Manchester United striker Robin van Persie has revealed he has held "very serious talks" with Guus Hiddink over Netherlands' disappointing Euro 2016 qualifying campaign.
After finishing third in the World Cup under Louis van Gaal just four months ago, Netherlands have suffered a dismal start to their European Championship qualifying campaign under their new coach, losing two of their opening three games to Iceland and Czech Republic.
National team captain Van Persie, whose form for both club and country has been questioned in recent months, held talks with Netherlands boss Hiddink in Manchester in an attempt to establish what they can do to turn their campaign around.
"It was a good, open and honest conversation. It was a critical talk, but it had to be. I understood that Hiddink will talk with the other guys too," Van Persie told Algemeen Dagblad.
"Everyone [from the national squad] is convinced it has to be different and better.
"The coach showed me what he want to see different and better. He showed a huge drive. He was sharp, hard sometimes, also to me. But it should be like that.
"I have a good feeling about the conversation. Although it was very serious, I felt a lot of trust."
The Netherlands' only win of the campaign so far has come in a 3-1 victory over Kazakhstan but problems within the Dutch set-up still dominated that contest despite claiming three points.
Van Persie was involved in an on-pitch altercation with fellow striker Klaas-Jan Huntelaar, although the United striker insists there is no issue between him and his Schalke counterpart.
He said: "Klaas and I spoke widely about it. We're both winners and have a lot of respect for each other as football players.
"I do understand that a moment like that drives the whole discussion. It is showed widely to the audience and people have a opinion about it. Maybe we had to deal with something like that a bit smarter. But it happened in the heat of the moment."