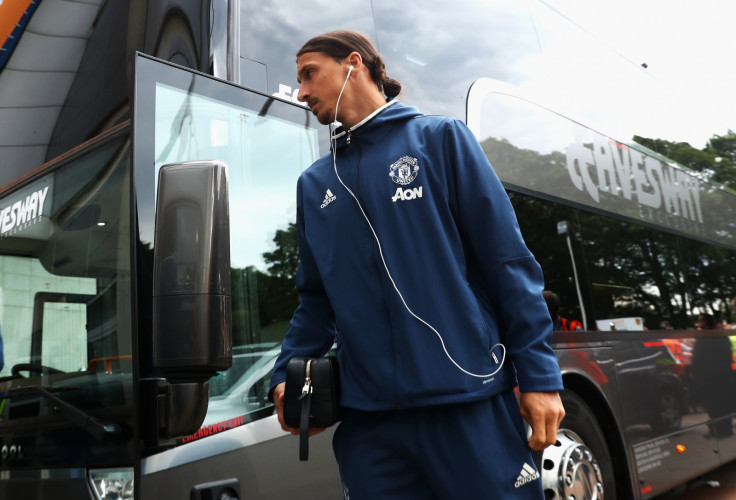 Manchester United striker Zlatan Ibrahimovic has admitted he misses the eye-watering salary he is rumoured to have earned at Paris Saint-Germain (PSG). The burly centre-forward left the French club to join United on a free transfer earlier this summer – and while he is relishing life in the Premier League, he confessed to missing the riches that came with playing for the Paris team.
Ibrahimovic, 34, reportedly earned around €290,000 (£246,000, $326,970) a week at PSG and is said to have taken a pay-cut to join United. However, Ibrahimovic said that besides his old salary, he has no other regrets about joining the Red Devils.
Asked what he missed about life at PSG, the United star told the French channel SFR Sport: "I miss my last salary from Paris. That is what I miss."
Despite his salary drop, Ibrahimovic remains one of the best-paid players in the world and has made an instant impact at United, where he has been reunited with his former Inter Milan manager Jose Mourinho.
The record-breaking striker is United's top goalscorer so far this season, and is likely to be a key figure in their much-anticipated derby game against Manchester City on Saturday (10 September 2016).
However, Ibrahimovic is also keeping a close eye on his former club PSG, saying they remain "very strong" despite his departure after four trophy-laden years. "I think the team is very strong. They have bought some new players but their philosophy is the same, to win everything and push for the Champions League," the United striker explained.
"But, if you could do this [snaps fingers] and win the Champions League, then everybody would win it. That is not the way it works. You need to work hard, it takes time and you need to have patience. Then the thing comes by itself. But let's see, that is another problem and it is not my problem!"