Manchester United suffer blow in keeping David de Gea as Iker Casillas 'will play' for Porto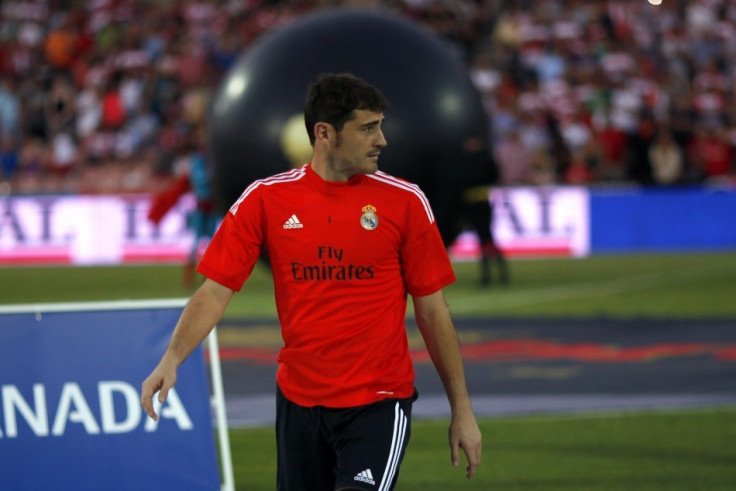 Manchester United have received a crucial blow in their hopes to keep David de Gea at Old Trafford next season after Spanish TV station RTVE reported that his move to the Santiago Bernabeu was even more likely because Iker Casillas is on the verge of a to move to Porto, with the outcome leading to an "essential step in De Gea's move to Real Madrid".
In the morning on 6 July, Spanish newspaper Marca reported that the United goalkeeper has taken advantage of returning to Manchester for the beginning of the pre-season by telling manager Louis van Gaal he wants to leave Old Trafford to join the La Liga giants in a move that could be close to €40m (£28.4m, $44.1m).
And RTVE later claimed Casillas "will play" at Porto next season, leaving Keylor Navas as the only 'keeper at Rafael Benitez's side.
The future of Casillas at the Santiago Bernabeu has been under increasing scrutiny in recent times after he fell out of favour with his own supporters, with him being whistled at in fury during a number of games during the 2014-15 season.
In May, the Real Madrid 'keeper told Spanish radio station Cadena Ser he hoped to retire at his childhood club.
"I'm sure I'll continue here next season – of course. I cannot imagine myself outside of the club when the new campaign starts. I want to end my career here," the club legend said at the time.
But RTVE later reported that the Spain international had changed his mind due to the expected arrival of De Gea to the Santiago Bernabeu and had reached an agreement with the club over his departure – with his future then yet to be decided.
Casillas has since being linked with a move to Tottenham and Roma but RTVE reports he will join Porto, claiming that even though the agreement is yet to be closed, both Real Madrid and the 'keeper are in favour of sanctioning the deal.
© Copyright IBTimes 2023. All rights reserved.