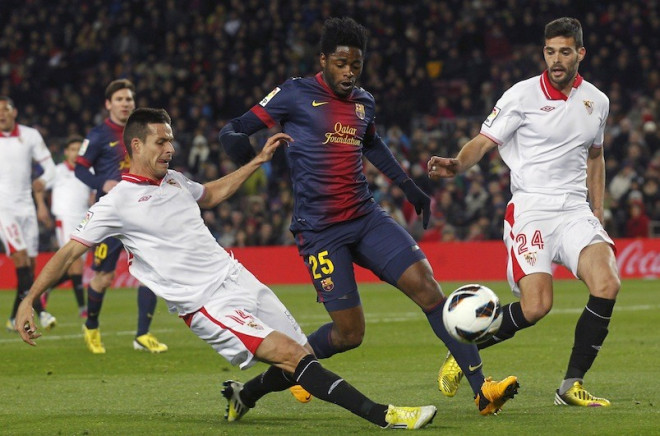 Manchester United have suffered a blow after Inter Milan declared its interest in signing Barcelona midfielder Alex Song in the summer, according to reports in Italy.
The former Arsenal player, who has been heavily linked with the Red Devils over the past 12 months, looks set to leave Barcelona this summer after failing to secure a regular place in Tata Martino's and ex-coach Tito Vilanova's starting line-ups.
According to Calciomercato, the Italian giants have offered Barca around £8.3m for the midfielder which is roughly what Barcelona have been holding out for – the Catalans paid £16m for him in the summer of 2012.
However, it seems the Catalans could be willing to accept a deal for a lower figure as he is one of the names that appears on the list of transferable players drawn up by Barcelona chief Andoni Zubizarreta.
Rafa Benitez's Napoli are also in the running but are yet to make a formal offer for his services.
However, Song was recently asked about his future in an interview with French TV BeIN Sport, and he said: "If I leave Barcelona it will be to return to the Premier League.
"I will return to England one day, that is for sure," he proclaimed.
United have been keeping a close eye on Song in recent weeks and all indications suggest there could soon be an agreement between both parties to formalise his move in next summer's transfer window.
Manchester United manager David Moyes, who is desperate to to re-build his under-performing squad, is looking to strengthen his midfield, and apart from the Cameroonian, he has also been linked with Toni Kroos and Ilkay Gundogan.