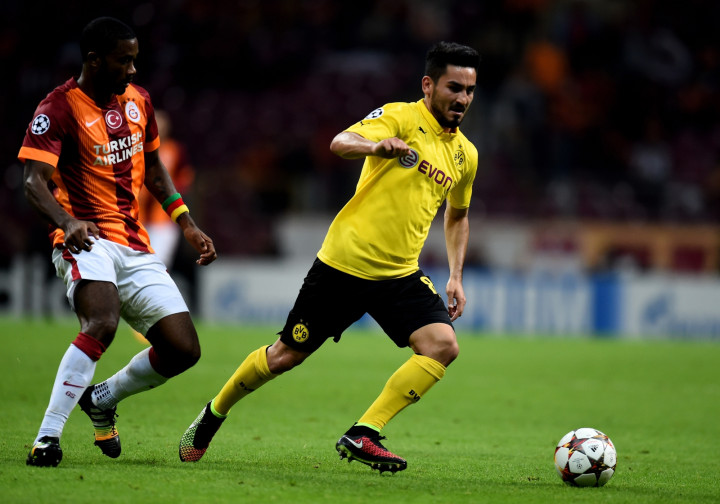 Long-term Manchester United target Ilkay Gundogan has strongly denied suggestions he is pushing for a move to the Premier League or La Liga in the near future.
Gundogan, who has recently returned to Borussia Dortmund's first team after 14 months out with a chronic back problem, was quoted as saying he aspires to join a club in England or Spain.
Those comments reignited talk of a possible exit from the Westfalenstadion in the near future following United's strong interest in the 24-year-old midfielder in the summer.
But, in a strongly worded statement, Gundogan has accused media reports of talking his comments out of context and insists Borussia Dortmund remains his priority.
"I have been following the media with great astonishment, including my ALLEGED statements," Gundogan wrote via his Facebook page.
"First of all I would like to stress that my statements that have been used are only extracts from a one-hour-long interview and they have furthermore been cited incorrectly.
"As a result I would to make an exception and take a stand on these rumours, simply for clarification.
"I gave this one-hour interview to Turkish TV channel TRT1. In this interview we have a wide variety of topics – from my childhood, my family, my career at different stages, the rivalry between Dortmund and Schalke, the atmosphere at Signal Iduna Park, Jurgen Klopp, the German national team, my successful time at BVB, the Champions League final and my injury.
"Under these subjects, I was asked if it was known that almost all of Europe's top clubs had studied my before my injury especially after the Champions League final, with Real Madrid among them. This was followed by the question of why a transfer had not yet happened.
"My answer to this question was clear: there were always requests from different clubs here and there. But it was never an issue for me to go as I have still have goals with Dortmund. And besides, I replied, I have an ongoing contract with Dortmund and the board have not made any indications with regard to selling me.
"I was then asked if moving abroad could be something I would think about.
"Again, my answer was clear.
"If I was to concern myself one day with the topic of moving abroad, then there wouldn't be many clubs that would come into question. At present, it could be England or Spain sometime in my career."
"From these quotes, the current reports are made by taking only excerpts, and these were also misquoted.
"I would like to ask you to ignore these reports. My focus is 100% on Dortmund."
Gundogan signed a contract extension at the Westfalenstadion in April, which will keep him at the club until 2016. After his lengthy layoff, the midfielder returned to action in October and has since made five appearances for the club as Dortmund attempt to reverse their fortunes in the Bundesliga.