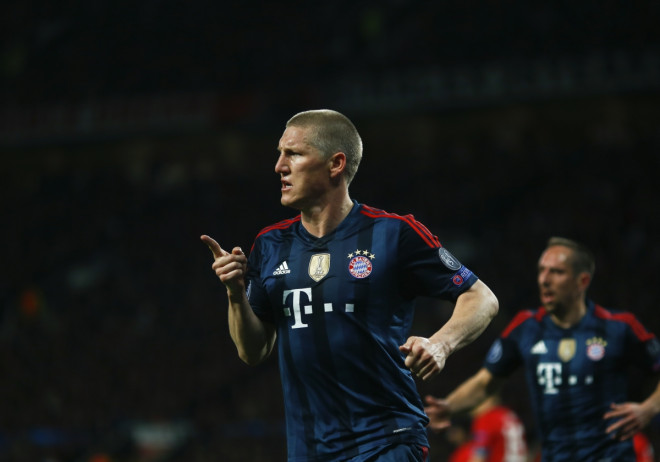 Manchester United incoming manager Louis van Gaal is reportedly set to offload Juan Mata in the summer transfer window and sign Bayern Munich star Bastian Schweinsteiger, according to the Metro.
The 26-year-old was signed by the former United boss, David Moyes, from Chelsea for a club-record transfer fee of £37.1m in the January transfer window.
The Spain international was eligible to feature only in the Premier League fixtures, where he managed six goals and four assists from 15 appearances.
The report claims Mata is not included in Van Gaal's plan at Old Trafford and is ready to sanction the sale of the player, with Barcelona keen on acquiring his services. The Netherlands boss wants to land Schweinsteiger, with whom he has worked previously while he was in charge at Allianz Arena.
United were keen on adding Schweinsteiger's teammates Toni Kroos and Arjen Robben to their squad. However, the pursuit of adding the German midfielder and the former Chelsea man suffered a blow when the duo committed their future to the Bundesliga champions.
The situation has seen United shift their focus on Schweinsteiger to strengthen the Red Devils's midfield.
The Express earlier reported that Bayern boss Pep Guardiola wanted Kroos's stay as he prefers him to his compatriot. The Spanish manager offered Schweinsteiger to United while they were discussing a potential transfer of Kroos to Old Trafford during their Champions League tie.
Meanwhile, the 29-year-old has expressed his desire to end his career with his current employers as he wants to emulate Ryan Giggs's longevity at Bayern. The Welshman announced his retirement as a player earlier this month and will be Van Gaal's No 2 for the next season.
"Can I be compared to Francesco Totti or Ryan Giggs? Yes, absolutely. They are two amazing players. At 40 years of age, Giggs is still going on playing at highest level. He is remarkable," Schweinsteiger explained.
"I am proud to have been at just one club. Were there any moments I was close to leaving? Yes, several times. But in the end the heart made the decision. Will I terminate my career at Bayern? It is impossible to reply."
"Here I am more than happy, but there could be surprises in the future. Moreover, I still have a few years to go on playing," the Bayern star added.