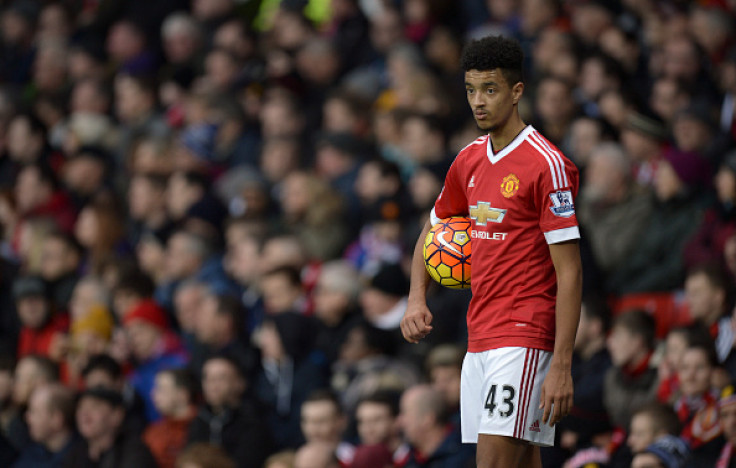 Manchester United defender Cameron Borthwick-Jackson has agreed to extend his stay at Old Trafford by signing a new deal. The full-back's contract is set to expire in June and he has been one of the young players to feature regularly in the Red Devils' first team under Louis van Gaal.
The 19-year-old has been at the club since the age of six and made his first-team debut in November 2015 when he came on as a substitute, replacing Marcos Rojo in the 72nd minute in United's 2-0 victory over West Bromwich Albion. Since then, the teenager has made 14 senior appearances in all competitions, while also winning the Under-21s Premier League with Warren Joyce's side in the 2015/16 season.
According to The Mirror, Borthwick-Jackson has signed a new four-year deal to extend his stay at Old Trafford until 2020. Earlier in May, Borthwick-Jackson was voted by the supporters as United's Under-21 Player of the Year for his impressive display with the Under-21 side.
Luke Shaw suffered a horror injury in September 2015 and since then he has been out of action. His long-term absence, coupled with injuries to Marcos Rojo and Ashely Young saw Van Gaal give the left-back opportunities in the first team.
Borthwick-Jackson has expressed his delight with his latest award. The defender is in no mood to rest and admitted the first-team experience he gained under the Dutchman this season has made him more hungry for the next campaign.
"It's a huge honour for me, of course, it's what you dream of coming up through the ranks. When I've been to award dinners in the past, I've seen people pick up this award and I challenged myself to win it this year and, thankfully, I've done it. As I say, it's just been an incredible season for me," Borthwick-Jackson told United's official website.
"Yeah, it's definitely made me hungry for more and that's what you've got to do, push on. I've had the taste, playing 12 games, so I have to keep going. You can't just rest on that, you want to aim to cement a place next season."
"Yeah! My main objective before this season started was to establish myself in the Under-21s. As things have gone on, I've grasped the opportunity and am hungry for more. You can't just rest on what you've done, you have to keep pushing on and keep doing what you're doing. Hopefully, I'll be in the manager's thoughts for the future."