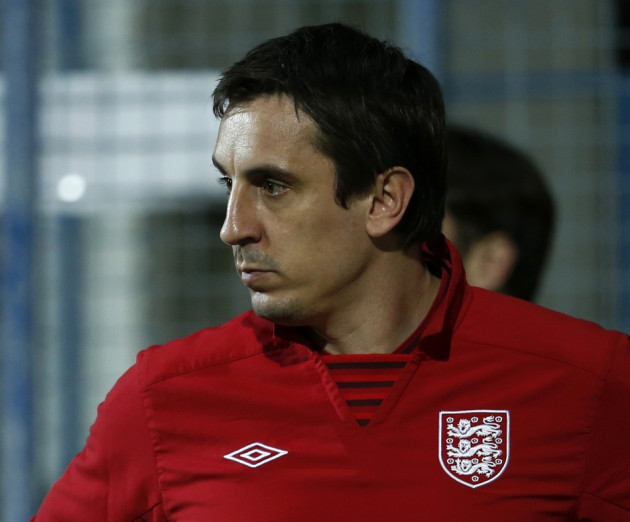 Gary Neville believes that Manchester United have run out of excuses not to purchase a midfielder this summer as the club settles into a new chapter under David Moyes.
Moyes officially took over from Sir Alex Ferguson on July 1st and is yet to sign any players as his side prepare for their pre-season tour.
Thiago Alcantara was believed to be target for the club but the Barcelona midfielder now looks set for a move to Bayern Munich after Pep Guardiola talked him up to the press this week.
And though Neville believes that Ferguson made the right decision in holding out on purchasing big-name midfielders in recent transfer windows he insists the time has come for Moyes to fill the gaps in this area of the squad.
"Last year Michael Carrick was outstanding, playing virtually every game," he explained to the Guardian. "Paul Scholes may have gone but Tom Cleverley played well in there, and they have Anderson, Ryan Giggs still there.
"What Sir Alex Ferguson was great at was sitting back and saying to himself: 'OK, if I buy a couple of midfield players, what about Tom Cleverley? I need to get Phil Jones into my team so, if Rafael is playing right-back, I've got [Nemanja] Vidic, [Rio] Ferdinand, [Chris] Smalling and [Jonny] Evans at the back, where am I going to get him a game?'
"You always have to weigh up the damage it does to your squad to sign players unnecessarily. In saying that, I'm pretty certain it's an area Moyes will look at because of the retirement of Scholes and the heavy reliance upon Carrick. A couple of injuries and he would look very light in there."
The impeding loss of Thiago to Bayern will no doubt be a blow for United, who are facing an uphill battle against the world's biggest clubs for talent this summer with a widely unproven manager.
The uncertainty over how Moyes will conduct his transfer tactics this summer have left United fans feeling uneasy, though he has commented this week that the club are working hard behind the scenes to build on the squad in preparation for the 2013/14 campaign.