Manchester United manager David Moyes feels Everton boss Roberto Martinez should not stand in the way of Marouane Fellaini and Leighton Baines, if they want to move to Old Trafford.
The Red Devils lodged a £28m bid for the pair last week but the Toffees swiftly rejected the approach claiming it was "derisory and insulting". It is understood that the players are keen on a switch to United and a reunion with Moyes, and the Premier League champions are now expected to return with an improved offer.
Moyes, who left Everton and joined United this summer, stated even he would have struggled to convince either player to stay at Goodison Park, if an offer from United was on the table. The Scot said he has some sympathy for Martinez but urged the Spaniard to let the players decide their future.
"I definitely do [feel sorry for Martinez] but I also know that if I'd been Everton manager and Sir Alex had come asking for Leighton Baines and Marouane Fellaini, I'd have found it very difficult to keep them because I always felt the right thing to do was what was right for the players," Moyes said.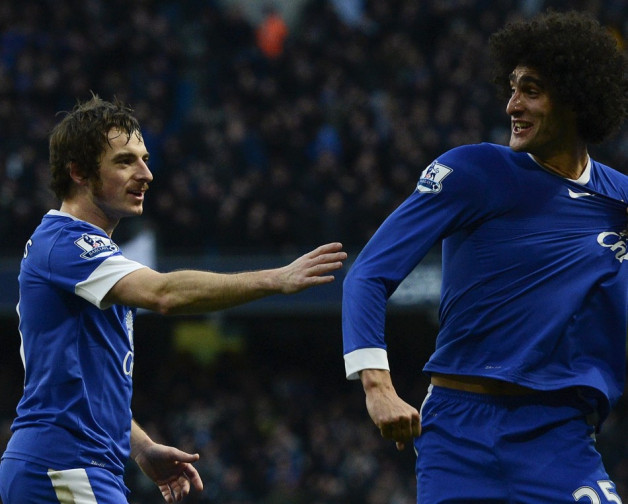 "I signed every player at Everton, so I know a lot about them. They are a great club and they are both excellent players. The bid, from Manchester United's point of view, was a private thing and if and when we make a new offer we'd keep that offer private and confidential as well," the 50-year-old added.
Moyes also revealed he is still in regular contact with Everton chairman Bill Kenwright and stressed he wanted an amicable solution to the situation.
"I speak to Bill Kenwright regularly, we speak most weeks. He was great for me and hopefully he would think that I'd done a good job for him as well, and Everton. There's no way there's any disrespect whatsoever. Everton are a great club, I respect them greatly and I in no way would want to do it in a way that affects them. Of course, taking a player is going to affect them. I'm doing what I have to do in my job," the Scot said.