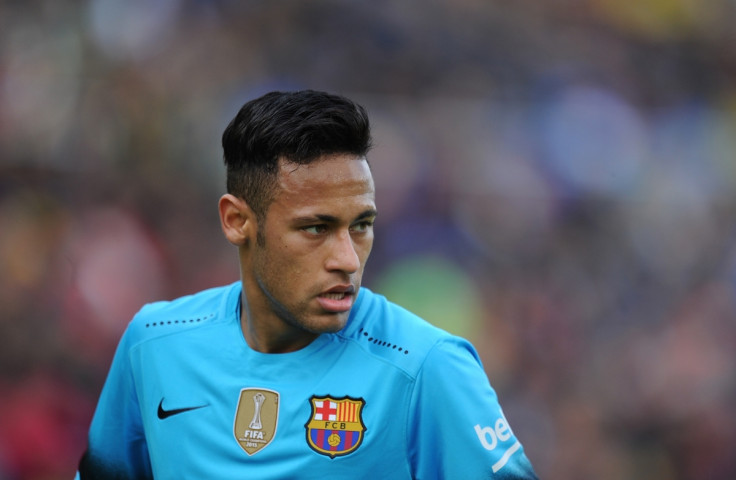 Manchester United have launched a final desperate attempt to hijack Neymar's contract renewal at Barcelona, according to Mundo Deportivo. However, the Catalan giants are confident the Brazil international will reject any approach from the Premier League, as he recently declared he wants to remain at the Nou Camp for the foreseeable future.
The Red Devils have been linked with Neymar since last summer's transfer window, when Brazilian publication Globo Esporte reported then manager Louis van Gaal had made an offer matching the player's €190m (£156.9m, $211.3m) release clause in order to make him a marquee signing.
Both Neymar and his father later confirmed United had tried to secure his services, but he chose to remain with Barcelona while the Old Trafford side spent big on the services of Anthony Martial from Monaco instead.
However, speculation continued throughout last season amid Neymar's delays in signing a new deal with Barcelona.
Earlier this month, Wagner Ribeiro, one of Neymar's agents, revealed that three clubs were still prepared to pay his client's €190m release fee in full.
Some at the time suggested Neymar was just pushing Barcelona to get a better deal, but Mundo Deportivo later reported PSG, Manchester United and Real Madrid had all sent representatives to Brazil to convince Neymar of the benefits of a future away from the Nou Camp.
The Spanish publication suggested Neymar's future at Barcelona was 50/50, adding that the Ligue 1 billionaires were the frontrunners to secure his services should he leave, having offered him a stunning €30m-a-year (after tax) contract – double the Catalans' proposal.
Neymar's father sent reassurances of a kind to Barcelona after ruling out any move to Real Madrid, but he failed to add anything about a potential switch to either PSG or United.
Mundo Deportivo reported earlier this week that Neymar had told Barcelona he plans to remain at the club in the long term, snubbing lucrative offers elsehwhere.
However, Mundo Deportivo have now claimed that on Wednesday (29 June) United launched a last-ditch offer to convince Neymar to join Jose Mourinho's project. The incoming boss at Old Trafford is understood to want the Brazilian at any cost.
Legendary agent Pini Zahavi, who was behind the moves of Rio Ferdinand and Carlos Tevez to Manchester United, is said to be the man pushing for Neymar to move to Old Trafford.
Neymar Sr has done little to clarify the situation, suggesting that the future of his son "has to go through Barcelona".