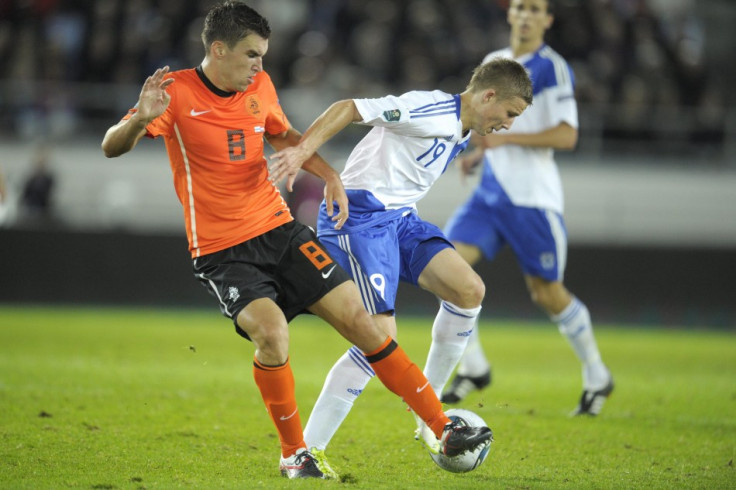 Manchester United are planning a £14mn bid for PSV Eindhoven midfielder Kevin Strootman, according to the Daily Mirror. The Red Devils have been linked to Strootman for a long time and it is understood Sir Alex Ferguson is keen on signing the 22 year old now, following an impressive season in the Eredivisie.
Strootman made 33 appearances for PSV last season, scoring six times. The anchorman, who has been labelled the Dutch Roy Keane, has also managed to keep Manchester City's Nigel de Jong out of the national team.
Although United have signed Japanese playmaker Shinji Kagawa from Borussia Dortmund and are pushing ahead with a move for Tottenham midfielder Luka Modric, Ferguson knows there is a need to recruit a defensive midfielder.
Strootman, who is part of the Dutch Euro 2012 squad, moved to PSV from Utrecht last summer and although the club will not be happy at the idea of parting with their star, the arrival of national team captain Mark van Bommel from AC Milan will mitigate any loss the club suffers on the pitch. The Daily Mirror report says the Red Devils will make a move for Strootman after he returns from the Euros.
Meanwhile, Poland striker Robert Lewandowski has avoided questions regarding his club future and a reported move to United. The 23 year old, who was the Bundesliga Player of the Season last year, was in the spotlight on Friday, after scoring the opening goal of the summer's tournament and firing the co-hosts into the lead against Greece. The match eventually finished 1-1. The second game in the group, between Russia and the Czech Republic, finished with an emphatic 4-1 score line in favour of the Russians.
Poland manager Franciszek Smuda earlier claimed Lewandowski would follow Kagawa to Old Trafford after the Euros but the striker refused to answer questions about a potential move.
"I am so happy to score this goal in the opening match. But I'm not going to concentrate on these issues (joining United). Euro 2012 is the priority. I'm totally focused on the national team," Sky Sports quoted Lewandowski as saying.
The Dortmund hitman, who scored 30 goals last season, also admitted Poland should have finished their chances, including the one he spurned - a missed header in the first half.
"I did everything to take the ball. I was just millimetres away but this is football and I hope next time I score. I regret that we did not take more of our chances in the first half. It could have been two or three but we still have a positive attitude," Lewandowski pointed out.