AS Roma defender Marquinhos is set to become the subject of a fierce bidding war between the champions of England, France and Spain, according to his representatives.
The 19-year-old Brazilian centre-back joined the Italian club last summer, initially arriving on loan from Corinthians. He has become an important member of the Serie A outfit's back four and is believed to be contracted to the Rome-based club till 2017.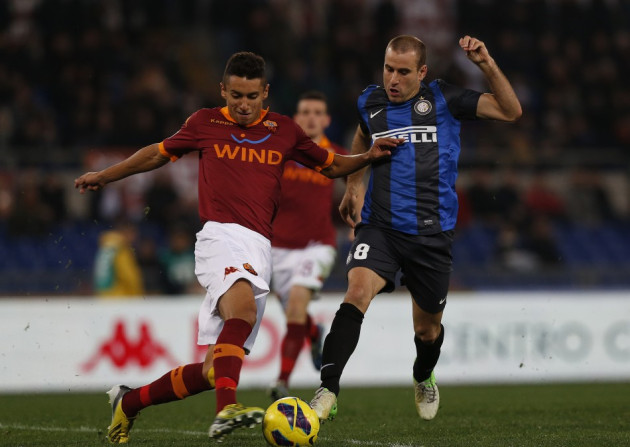 According to Corriere dello Sport, Paris St Germain (PSG) have already had a €35m deal accepted by the Romans but interest from Barcelona and Manchester United means any transfer is likely still far from being announced. As far as the Italians are concerned, they appear resigned to the idea they may lose their star youngster.
"Roma has told us that there is the possibility of a sale, and we'll respect the decision they take. There are offers from PSG, Barcelona and Manchester United, and it's possible the club accepts one of those," one of the player's agents told Sky Italia.
United's rivals, Manchester City, could play a role in transfer rumours as well, as could Roma's domestic rivals Napoli. However, City's interest was confirmed by former manager Roberto Mancini and it remains to be seen if new boss Manuel Pellegrini has similar designs on the young Brazilian.
The Naples club say they tried to sign Marquinhos (and Argentine forward Erik Lamela) for €40m but club president Aurelio De Laurentiis has now confirmed he has no further interest in the defender.
United's interest could also peter out, leaving Barcelona and PSG to go head-to-head, if reports of a deal for Argentina international Ezequiel Garay are true. It is believed David Moyes is closing on a £17m (and £115,000 per week in wages) deal for the former Real Madrid defender.
Meanwhile, Marquinhos appears unfazed by all the speculation and, speaking in April, sought to play down talk of a move abroad.
"I'm a Roma player, I have a contract and I'm very happy to be here. I was badly misinterpreted [earlier comments on the possibility of moving to Barcelona]. I only wanted to say that I am thinking just of training and playing because everything else is taken care of by my agent and the club," he stressed.