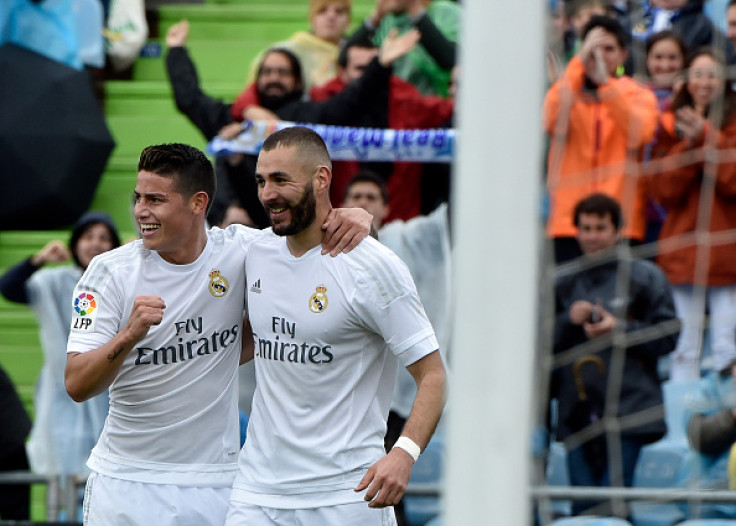 Real Madrid duo James Rodriguez and Karim Benzema have committed their future to the Spanish capital club after they were crowned the champions of Europe for the 11th time on Saturday (28 May) following their win over Atletico Madrid via penalties. Their admission will be a big blow to Manchester United, who had identified them as potential summer transfer targets.
The Colombian international has failed to rise to the heights he achieved during his debut season with the Los Blancos and fallen down the pecking order this campaign making just 17 starts in the La Liga this season. He has also been overlooked by new manager Zinedine Zidane in key matches this season including the semi-finals of the Champions league and the finals when he was an unused substitute. This has prompted speculation that the midfielder is unhappy, with Spanish publication AS reporting that he is looking to leave the club.
The Red Devils are looking to add some creativity to the team this summer, and Jose Mourinho could be tempted to make a move after reports suggested that he would prefer a switch to Old Trafford to other interested clubs. However, the former Porto midfielder has spiked speculation over his future by suggesting that he is keen to remain at the Spanish capital for the foreseeable future while vowing to learn and improve from the difficult campaign he endured.
"In football you never know but I want to continue here and my idea is to have many more years with the club. I am happy here. All the people close to me are happy too. It's the ideal club and I want to be here," Rodriguez told Spanish daily AS.
"A bit strange but when you have bad times you also learn from them. Each day I learn more. I don't know but I have to leave this behind and think about what is ahead of me."
'Benzema happy at Real'
United's new boss is said to have made Benzema his priority summer transfer target, according to Independent, but the striker is hoping to remain at the Santiago Bernabeu for 'many years' to come after yet another impressive season for a team loaded with superstars. However, the Frenchman's future at the club could be put in doubt after Robert Lewandowski's agent revealed talks with the 11-time Champions League winners.
The Poland international's arrival could force the club to sell as they also have young Jese Rodriguez on their books, and Benzema could look to move as he will not be guaranteed a starting role, unlike this season when 26 of his 27 league appearances were from the start.
"I am happy here and I hope to be here for many years. I thank the people in Madrid for being there for me and my family. Thanks to everybody because they are part of my life and we are going to be used to winning titles," Benzema said, as quoted by the Manchester Evening News.