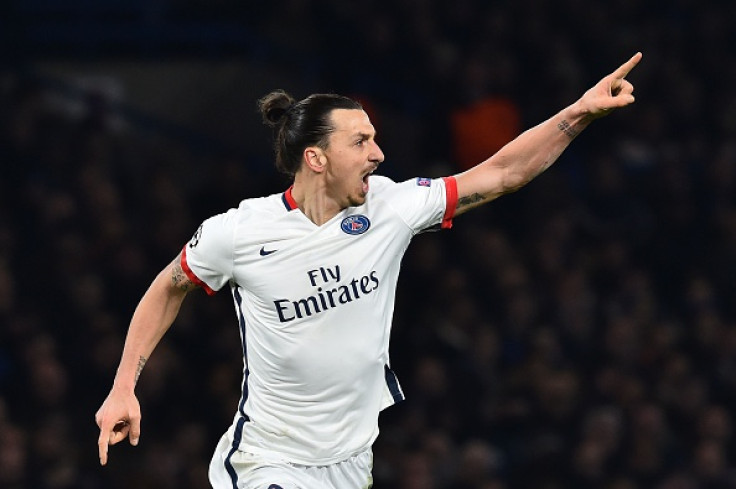 Paris Saint-Germain star Zlatan Ibrahimovic's agent Mino Raiola has revealed that reports suggesting Manchester United have offered the striker a one-year deal is "not factual." The 34-year-old is a free agent in the summer and the French cup final against Marseille on 21 May will be his final game for the Ligue 1 champions.
The Swedish international had said he would be leaving his current employers after confirming the league clash against Nantes would be his final game at Parc des Princes. He tweeted, "My last game tomorrow at Parc des Princes. I came like a king, left like a legend."
According to the Telegraph, United are the favourites to sign Ibrahimovic as they are willing to meet his financial demands as the former Barcelona and Milan striker has been asking for £300,000-a-week ($434,625-a-week) after tax. In addition to this, the Daily Mail claims reports in France suggested the Red Devils have offered him a one-year deal, with an option to further extend by a year.
"In this world we have to accept some journalists use their imagination and make things up. The story is not factual," Raiola told Sky Sports.
After PSG's 4-0 victory over Nantes on 15 May, Ibrahimovic revealed he has already made up his decision over his next club. In addition to this, he also admitted that he will miss being around Parc des Princes and remains confident that PSG's project will continue.
"I know what I will do next year but I won't tell you," Ibrahimovic explained, as quoted by Ligue 1's official website.
"I am very excited tonight, I've had four fantastic years here. This is a fantastic group, it's even the best group I've played with.
"I will miss this team. We're proud of what we've done. The club will remain in my heart. I hope they will continue to win because the project is huge. I'm not worried."
Ibrahimovic has scored 51 goals in all competitions for PSG this season. Out of that 38 goals have come in 31 league matches.