Chris Reid, the security contractor for Manchester United, has apologised for leaving behind a fake bomb at the football club's Old Trafford Stadium. The discovery of the bomb in one of the toilet blocks on Sunday (15 May) led to the stadium being evacuated and the match against Bournemouth being called off.
Reid, who heads the Security Search Management & Solutions Ltd, was conducting a training exercise at the Old Trafford when one of the devices was accidentally left behind in a toilet, with Reid admitting that he had wrongly logged the fake bomb as found, during the excersie which took place on Wednesday 11 May. He said that he had marked the "mock-up of a pipe bomb" as recovered as he had a similar item which had not been used in his bag.
Reid said he was "absolutely gutted" that a lapse in protocol had "resulted in many people being disappointed, frightened and inconvenienced. The mistake is entirely mine, I have to take full responsibility."
Reid, a former Scotland Yard police officer, said that the fake bomb that was left behind had a small white label with "training aid" written on it and that it was not concealed. Speaking outside his home in Biggin Hill, southeast London, Reid told reporters: "To say I am sorry doesn't seem adequate, but I am.
"There was something found, they dealt with it in the way they should have done. Whether they should have found it earlier is another issue," he said. The club has also confirmed that the security contractor had signed his paperwork to confirm that all devices used in the training exercise had been recovered.
Ed Woodward, the club's Vice Chairman, said that the device could not have been detected by sniffer dogs on the routine match day search as it did not contain any explosives. For the first time in 24 years, a Premier League match was abandoned on security grounds.
The entire 75,000-seat stadium was cleared. Ed Woodward, the club's Vice Chairman said: "Once a live situation was identified, the club and police had no option but to treat the matter as a potential terror threat; we could not have assumed it was a training exercise error. Presented with the same situation in the future, we would take the same action."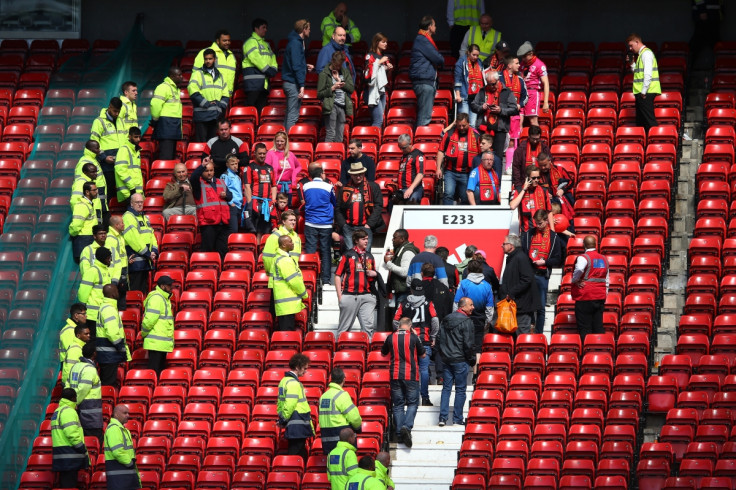 Reid, who has worked for the Metropolitan Police as a Counter Terrorist Police Search Advisor said that his security firm "is probably about to go into liquidation" over the incident, Manchester Evening News reported. The match cancellation on Sunday has cost the club about £3m. The match has been rescheduled to take place on 17 May.
"I can't say anything at the moment - I'm waiting for Manchester United to get back to me. Obviously, it's a security issue. If it was any sort of issue and I needed to put my side of the story then it would be different," he explained.
Reid continued: "But I'm waiting for them to get back to me. I'm just fixing my roof while I've still got one. They said this afternoon, and I'm sure they're having meetings at the moment to see which guillotine they're going to use on me. I have to take responsibility in the end, I won't shirk my responsibility."